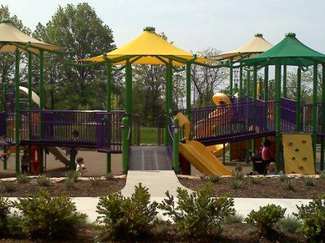 In Dublin, Ohio families have the choice of two very different inclusive playgrounds.  This week we are highlighting Emerald Fields and next week we will highlight the playground at the Miracle League Field.
The City of Dublin built Emerald Fields Playground, a universally accessible playground, with grant money awarded by the state. While the play area is designed for children with special needs, children of all physical-skill levels, from toddlers through elementary school-aged kids love to play here.
At the entrance of the playground is a NEOS 360. This giant circular play station incorporates lights and music to test eye-ear-hand-foot coordination, and cardio levels. NEOS is fun for young children as well as teenagers and adults. It is designed to make it easy for people who use wheelchairs to play alongside their friends.
According to Kristen Maetzold in Columbus Parents, Playground Patrol, "Those skills will serve kids well as they move on to the sprawling playground. Like a life-sized game of Chutes & Ladders, generous purple ramps and bridges connect a bevy of brightly colored slides and various climbing structures. Tucked underneath it all is a series of fun games that test knowledge of numbers, shapes, colors, and patience, including a brilliantly designed scavenger hunt."
The playground has other sensory activities including a teeter-totter, spin cup, music station, places to balance and bounce, even the chance to climb a rope ladder or a rock wall.
For children who love to swing, this is the place to come. No waiting in line to get a swing in this park where there are a dozen swings! In addition to the belt seat swings, there are toddler swings and accessible swing seats to ensure everyone can have the pleasure of swinging.
The playground was designed and installed by Playworld Midstates, a leader in inclusive design using  equipment from Playworld Systems.
Here are children playing at Emerald Fields on its grand opening day:
DCVB – Emerald Fields Park from Dublin, Ohio, USA on Vimeo.
You can see great pictures of two children exploring the playground on Beatrice and Augustus's blog.
The playground is located at 4040 Wyandotte Woods Blvd. (near the intersection of Sawmill and Hard roads) in Dublin, OH.  See map:
View Larger Map