City of Yukon
Freedom Trail Playground–2101 S. Holly Avenue.  The playground is an award winning handicap accessible playground which includes a toddler play area, dinosuar dig and Oklahoma Native areas.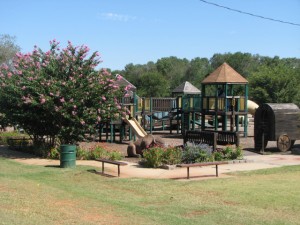 Choctaw
Dreamcatcher Playground — is located at Choctaw Elementary School, 14663 NE 3rd. DREAMCATCHER PLAYGROUND…Replacing barriers with smiles, laughter and play. The playground development has been divided into four phases. Phase I was constructed by a community of 300 volunteers in October 2004. This phase provided a school aged structure with a variety of slides, climbers, monkey bars, panels, bridges, spinners and a space net climber. Phase II was completed in September 2006, adding two banks of swings, a basketball court, sidewalks and sod, resurfacing the concrete play area with asphalt, and addressing drainage issues. Phase III was added in October 2009 and included a Sway Fun® Glider and an Evos™ playsystem.  NOTE: UNCERTAIN OF WHAT TYPE OF SURFACING THE PLAYGROUND HAS.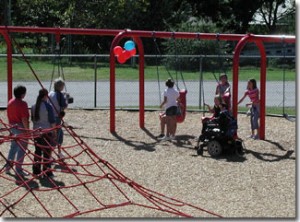 Edmund
Cross Timbers Elementary School — 4800 N. Kelly.  The school has a fully universally accessible playground with pour-in-place surfacing and adapted swings thanks to a grant from the Lowe's Charitable and Educational Foundation. A Braille map of the play area also will be provided for children with vision challenges.  Thanks to Lowes and other supporters including Walmart, all students, including those with disabilities, have a contained, safe area to play outdoors. The playground has created opportunities for educators to implement new physical education curricula for Cross Timbers students.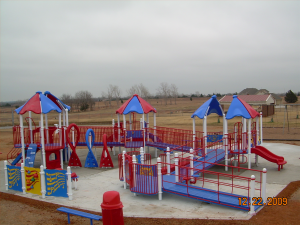 Oklahoma City
Lake Hefner Park Boundless™ Playground — 4491 South Lake Hefner Road.