For a full listing of New York City playgrounds, please visit our Accessible Playground Directory
New York City has hundreds of playgrounds across the five boroughs of the Bronx, Brooklyn, Manhatten, Queens, and Staten Island.  Most of them meet or exceed ADA.  All of their playgrounds have pour-in-place surfacing or tiles. New York City utilizes Accessibilty Level Definitions to describe their playgrounds and to help you discover which playground best suits your child. Many of the playgrounds have ramped equipment and accessible swings.  We have only included the Level 1 playgrounds or those that are parent recommended.
The following playgrounds that New York City classifies as Level 1 playgrounds or "Playgrounds for All Children" are designed to provide recreational opportunities for children of all ages and abilities. Playground features include ramped play equipment, ground level play features, wheelchair-accessible tables, and drinking fountains.  Some of the playgrounds also include accessible swings.
If you would like to discover where to find the other playgrounds that have ramped equipment, accessible swings or meet ADA, the New York City Department of Parks and Recreation has a great website for you to search playgrounds across the city.
Bronx
Pelham Bay Park-Playground for All Children— is located within Pelham Bay Park at Hutchinson River, Long Island Sound between the Bronc County Line and Middletown Rd., Watt Ave. This playground features colorful play equipment and handrails that can be reached by all children. There are Braille signs to help guide the blind, and accessible swings. This playground also has an accessible comfort station and spray shower.
Manhattan
Robert Bendheim Playground — is located within Central Park  at 100 ST & 5TH AVE.  This playground features accessible swings and ramps. There are also tunnels, slides, and a sandbox with raised sand tables. During the summer, there is a water feature to enjoy.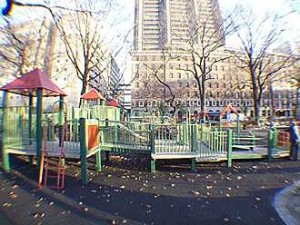 Playground 70 — W 70 St Bet West End & Amsterdam Aves;   This playground is a fully-accessible play space which includes accessible swings and a children's garden with accessible bridges running across it. There are musical instruments built into the play space, and basketball courts with adjustable basketball backstops that can be lowered for athletes in wheelchairs. The comfort station and picnic tables are accessible as well.  There is a much-loved camel structure to climb.  There is also a spray shower with a map of the United States in colored concrete for all to enjoy during the summer months.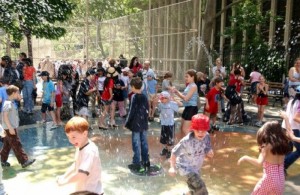 Vesuvio Playground (Thompson Street Playground) — Thompson St, Spring To Prince Sts in Manhattan. This playground does not have accessible swings, but does have a spray shower and bathrooms.
Train Park — 68th and Riverside Blvd in Riverside Park.  This is not rated as accessible by NYC.  But it was recommended by a parent. According to Beth, it has a great summer water feature.  With a soft ground and everything low to the ground, it is great for small children or children with disabilities.
Train Park
Queens
Playground for All Children—located within Flushing Meadows Corona Park in Queens, 111 St & Saultell & 56 Aves.  This is a Boundless Playground™ and includes accessible swings.  There are also bathrooms at the park.
Staten Island
Bloomingdale Park — Richmond Pkwy, Bloomingdale Rd, Lenevar Ave in Staten Island.  This playground does not have accessible swings; however it has a Sway Fun, a wheelchair accessible glider and bathrooms.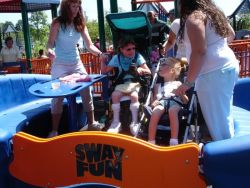 Non-City Playgrounds
PS 199 School Boundless™ Playground — A Boundless™ Playground is located at the Jessie Isador Strauss PS 199 School, 270 West 70th Street.