This just a few examples of playgrounds in Florida.  For a full listing, please visit the Accessible Playground Directory.
Boca Raton
South County Region Park–1500 Yamato Road, west of Boca Raton.  The playground is located between Sunset Cove Amphitheater and Canine Cove Dog Park.   The Parks and Recreation department states, "Colorful, sensory-rich, barrier free play areas provide opportunities for children with and without disabilities to play together side-by-side."
Boyton Beach
Jacob's Park–Located at the Lore & Eric F. Ross Jewish Community Center, 8500 Jog Road.  A project of GameTime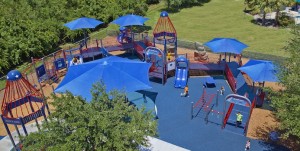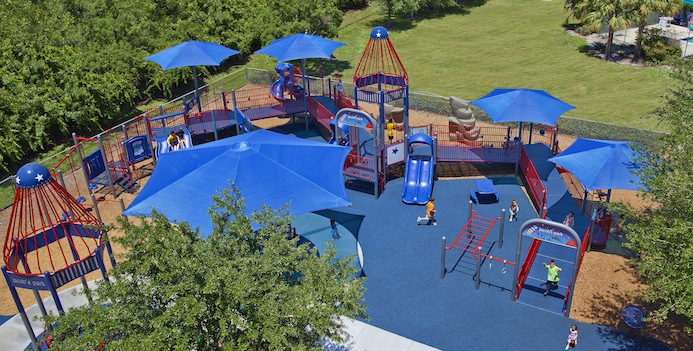 Cape Coral
Cape Elementary Playground–Located at Cape Elementary School 4519 Vincennes Boulevard.  This is a Boundless Playground with equipment fromPlay & Park Structures.
City of Lake Wells
Barney's Dream–Resides in Kiwanis Park, N Lake Shore Blvd & Tower Blvd
City of Seminole
Seminole Centennial Playground—113th St & 90th Ter.  The City of Seminole and Rotary Club of Seminole's Playground is located behind Holland G. Mangum Recreation Complex.  The playground has Playground Grass for surfacing.
City of Tempe Terrace
Riverhills Park Playground–locate next to Riverhills Elementary School, 405 S. Riverhills Drive.  The new "all inclusive" playground features special swing seats, ADA compliant ground-level features, musical instruments, a poured-in-place safety surface and other amenities that can be enjoyed by all children.
Davie
Flamingo Gardens–3750 S Flamingo Road, located at the entrance.  There are standard and double-wide slides, a crawl tube, bedrock and corkscrew climbers, a clatter bridge, steering wheel, storefront, tic-tac-toe and truck activity panels.
Caitlyn's Corral–Located within Vista View Park, 4001 S.W. 142nd Ave..  Caitlyn's Corral is the largest handicapped-accessible playground in the Broward County Park system.  In addition to the playgroun there is a ramp system to help residents in wheelchairs transfer to horses in the equestrian-friendly park.  The ramp system, called a universal mounting block, is the only one of its kind in the park system.  There is an admission fee on weekends and holidays to enter the park of $1.50 per person over the age of five.
Deltona
Thornby Park–-110 Providence Blvd (Lakeshore Drive).  The playground features Pour-In-Place rubber safety surface and playground equipment compatible with children who are either in wheelchairs or need an adult partner, such as double-wide slides, raised sandboxes and jungle gym ramps.
Fort Lauderdale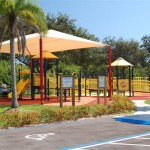 Florence Hardy Park–25 SW 9 St,  This is a Boundless Playground with Playground Grass for surfacing.
Mills Pond Park–2201 NW 9 Ave,  This is a Boundless Playground.
.
.
.
.
Fort Myers
Karl Drews Community Center–18412 Lee Rd.  The playground includes an Evos as well as a ramped structure that include SlideWinder2 and Double Swirl Slide. Shade is provided by Cool Toppers®. The playground equipment comes from Landscape Structures and the playground consultant was Rep Services.
Lakeland
Common Ground Playground–1000 East Edgewood Drive.  This Landscape Structure's Playground includes an EVOS structure, accessible swings, as well as many other features.   As can be seen in the pictures, the surfacing is Playground Grass.   Upon entering the park, one can hear music playing in the rocks and bushes, usually oldies or kids' sing-a-longs.    There is a large sign with rules that include: "Explore. Laugh. Experiment. Run. Jump. Slide. Climb. Have fun."   With all of the different attractions, it really leaves you no option.    While most parks have the usual swing-set, slide, and monkey bars, Common Ground takes things to a whole new creative level.The Play zones such as Adventure Canyon, Spider Web Peak, Butterfly Meadow, Fossil Beach, Gopher Mountain, Journey Plateau and Sculpture Gulch provide easy, intermediate and challenging play opportunities.  The playground consultant was Rep Services.
Lake Worth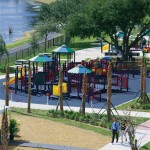 Picower Super Park featuring the Quantum Kids Zone--Resides in John Prince Park, 2700 6th Ave South.  This is a Boundless Playground. See wonderful pictures of this large playground.  The equipment for this park comes from Play & Park Structures.
Lauderdale Lakes
Willie Webb Park Boundless Playground–Resides in Willie Webb Park , 3601 NW 21 Street.  The equipment comes from Play & Park Structures.
Otis Grey Neighborhood Park–4800 NW 26th Street
Naples
Corkscrew Elementary School–1065 County Road 858.  This playground is manufactured by Playworld Systems.
Ocala
Marjorie Harris Carr Cross Florida Greenway Felburn Foundation Boundless™ Playground–Baseline Trail, 4255 SE 58th Avenue.  The equipment comes from Miracle Recreation.
All Children's Playground–located at Tuscawilla Park, 899 Sanchez Ave. The park is 34.3 acres and the one closest to Downtown Ocala. Along with the playground, it is the home of the Ocala Recreation and Parks Administration office, the 8th Avenue Senior Center, the Discovery Center, and the American Legion rental facility, a 3/5 of a mile concrete walking trail surrounding "Lake Tuscawilla", six lighted tennis courts, two lighted outdoor basketball courts, a raquetball court, a baseball field, shuffleboard, picnic tables and picnic pavilions, and restrooms.
Orlando
Magnolia School–1900 Matterhorn Dr. The 3,428-square-foot playground features a unique design to meet the special needs of the students. The playground includes rubber safety surfacing material, wheelchair accessible ramps, play panel activities and transfer stations to make play easier for the children. It also features slides, climbing and balancing activities and steering wheels for imaginary play activities.  The playground was built by American Association of Orthopaedic Surgeons as part of their annual meeting in partnership with KaBOOM!
Ormond Beach
Limitless Playground–700 Hull Road in the Ormond Beach Sports Complex, adjacent to the municipal airport. A project of GameTime.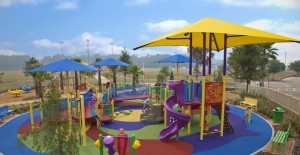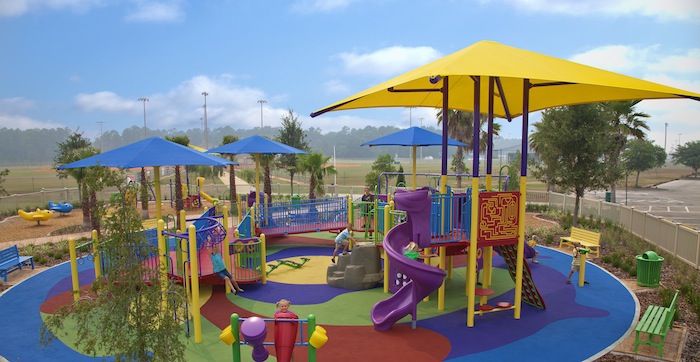 Palm Bay
Inspiration Park–751 Consumer St. SE
Palm Beach Gardens
PGA National Park–1 Ryder Cup Blvd.  This playground includes a PlayBooster® play structure that include the SlideWinder2, Thunderhead Climber® and the Pinnacle™ natural climber. In addition, the structure includes many fun panels and an extensive ramping system. To round out the playground design, Hex Shingle Roofs were included to protect children from the sun, and grass-like safety surfacing was included. The playground equipment is from Landscape Structures and the playground consultant was Rep Services.
Palmetto Bay
Palmetto Bay Park –17535 SW 95th Avenue.  This is a Boundless Playground. The equipment comes from BigToys
Tampa
Freedom Park— Located in Macfarlane Park, 1701 N MacDill Ave.  Freedom Playground includes elements found in traditional accessible playground models as well as additional amenities such as art, nature, water and musical instruments.   Manufactured play equipment from BigToys is utilized in the layout but is not designed to be the primary element of the playground.   There is ample shaded play areas and accessible seating.
Tallahassee
The Rotary Playground at Tom Brown Park–501 Easterwood Drive.  The equipment for this playground comes from Landscape Structures and the playground consultant was Rep Services.  There are two playgrounds. The larger blue playground is completely accessible and has a separate area for younger children as well as baby swings. In addition, the playground includes water mist, interactive video game, rope jungle gym, tire swing, slides, tunnels, monkey bars and much more.  There are covered picnic tables and easily accessible restrooms.
Felburn Foundation Boundless Playground at the Wakulla Station Trailhead of the Tallahassee-1358 Old Woodville Road, St. Marks Historic Railroad State Trail.  Some of the features of the playground includes poured-in-place rubber surface, ramps on the play sets, elevated sand table and activity panels, and swings and bouncers with high-back support.
Winter Haven
Andrea Trakas Memorial Playground–located at Simmers – Young Park, 5630 W. CR 542 The brightly-colored GameTime playground includes a play structure featuring steering wheels, a working telescope, five slides and rock climbing structures, as well as unattached activities such as bongo drums and maracas, a merry-go-round, monkey bars, balance beam and several types of swings. The playground also includes a sidewalk that leads right to the ramp of the playground, ramps that directly access over 85 percent of the structure, a slide that is designed for easy access for those in wheelchairs or with crutches and a swing with a full back and strap. Read the story behind the playground.
Wellington
Scott's Place Playground–12794 W Forest Hill Blvd.  The playground is one acre and is an equestrian theme.  A sprawling PlayBooster® playstructure and Evos™ playsystem make up the unique play area called Scott's Play. The playground welcomes children and families of all abilities with innovative play activities like the Sway Fun® glider. An extensive ramping system brings children using mobility devices to the center of the action where they'll encounter lots of play panels, crawl tunnels, slides and more. Across from the PlayBooster is the Evos playsystem, which has a whole different set of challenges for all abilities. The playground equipment comes from Landscape Structures Inc and was built by Rep Services. Check out Great Pictures.