If I could spend the summer driving around the United States and finding great accessible playgrounds, here is my top ten playgrounds that I have always wanted to visit.  Let us know what you know about these playgrounds and what your favorite playground is.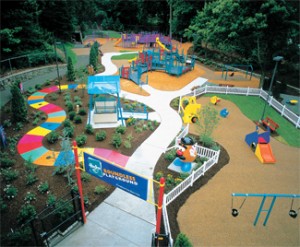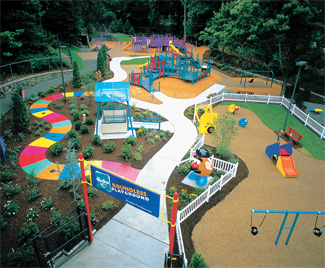 The Roger Williams Park's (where the playground is located) 435 acres feature over 100 acres of ponds that weave their way throught the rolling landscape. The landscape includes specimen trees, the famous Rose Garden, and signficant outdoor public sculpture.  Major attractions include the nationally-recognized Roger Williams Park Zoo, the Museum of Natural History and Planetarium, the Botanical Center, the Casino, the Carousel Village–which is where the playground is.
The colorful, fully enclosed playground with a Mr. Potato Head who greets children of all ages as they enter the park, now boasts a toddler area, slides, drums, play panels throughout the labyrinth of walkways, swings, slides and climbing structures. There is also a 3,500 square foot sensory garden which houses over 500 plants.
The playground was completely funded by Hasbro and in addition the Mr. Potato Head there is a also a game of Candy Land.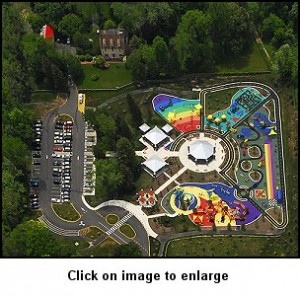 The Two Acre Playground Consists of 4 Outdoor "Rooms" Surrounding a Centerpiece Carousel.  There is something for everyone – children will be able to find something to climb on, touch, read, do or create. Children will enjoy the challenges of balance and depth perception on the playground's balance beams. A mini-track can be used to race, playhouses and cubbies offer pleasant spaces for social interaction while also allowing children seeking quiet or separate areas to play in smaller groups. Tent sails provide areas of shade in the playground and benches are located throughout the play area
The Rainbow Room has an rainbow archway, surface with colors of the rainbow and a variety of swings.The Schoolhouse & Maze is filled With learning panels that form a fun maze. The Movin and Groovin Transportation Area is designed with transportation themed equipment such as a race track, motorcycles, planes, and trains. The Fitness & Fun room includes the largest piece of play equipment along with various jungle gym components.
The American Classic Carousel is the Centerpiece of the Park. Chariots, a spinning tea cup and 14 prancing steeds await only the imagination of children. The carousel is recessed to ground level so that it is accessible for wheelchairs, allowing children to transfer to the tea cup. The chariot is designed to allow for transfer to a seated position or to remain seated in the wheelchair.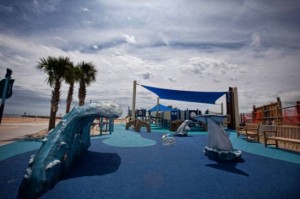 Nobody enjoys the beach more than Josh Thompson. He was an avid surfer. He loved taking his family to the beach. He grew up on the beach and thought he'd be riding his board for years to come. But in late 2006, Josh was diagnosed with amyotrophic lateral sclerosis, better known as ALS or Lou Gehrig's Disease. Josh had to turn his attention from riding waves to fighting ALS, a battle few so young have to face.
JT's Grommet Island Beach Park and Playground For EveryBODY is the first of its kind in America. The idea ws born when Josh Thompson's family wanted to go to the beach, but he stayed behind because of the difficulty of getting his wheelchair to the beach, across the sand and down to the surf. They wondered how many more people never got to the beach for the same reason. The park idea was born. Bruce Thompson, Josh's dad, took the idea of a 100% handicap accessible oceanfront park to the City of Virginia Beach where it was embraced with enthusiasm. Land was allocated and plans submitted to the City of Virginia Beach.
On the rubberized play surface across from Anticipation is a climbable tableau featuring a surfboard, dolphins and waves. "The wave feature is intended to bring surf to people who can't get down to the water," says Stacy Gibson, project designer for WPL Site Design.The surfboard provides an accessible place for people to pose for pictures while pretending to ride the waves. "You can transfer from a wheelchair onto the surfboard, and when you're on it, the dolphins seem to be swimming with you," Gibson says.
Three paved paths lead down to sitting areas on the beach, so people in wheelchairs can get closer to the water and, if they're able, help build a sand castle. "Super scoops" are provided, and beach wheelchairs are available. There are shaded areas to sit under. There is a sensory wall, execerise equipment for people who use a wheelchair and much more.
4. Preston's Hope–Beachwood, OH Map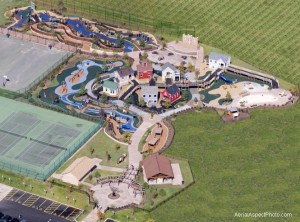 This is a spectacular 60,000 square foot outdoor play environment located next to the Mandel JCC.
Imagination Village, the most recognizable and visible element of Preston's H.O.P.E., offers a wondrous place to explore kid-size houses and stores. The two story structures were donated and built by area builders and represent make-believe homes and businesses, including a schoolhouse and hair salon. The second story of the two-story Village is connected by an easily accessible raised walkway. This walkway is just one of many elements that allow wheelchair bound children to reach and view the world from a much higher perch than they normally could do otherwise.
There are a number of features that make Preston's H.O.P.E. accessible and handicapped-friendly, regardless of disability, for both children and adults. In addition to features designed for children that require a wheelchair, for the vision impaired there are auditory elements and play objects in the playground that are labeled in Braille. Other features of the playground include the Play Theatre, with its own performance stage, and the Sand & Water Area, where children can dig for dinosaur fossils. The play areas with swings, tunnels, and slides, with wheelchair-wide access ramps, are appropriate for children from preschool through school age.
Throughout the play area there are several benches and a covered pavilion for parents and grandparents to take refuge from some of Cleveland's hotter days. Accessible restrooms and drinking fountains have also been incorporated into the design. Additionally, when children get hungry, families can grab a quick bite to eat at the kosher SUBWAY at the J, which is also open to the community and located in the lobby of The Mandel JCC, just steps away from the playground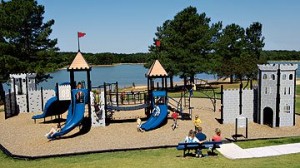 There is much that can be done while visiting the Craighead Forest Park.  Start at the Rotary Centennial Playground, which includes many  Landscape Structures Inc play pieces including several ground-level learning panels, Elevated Sand Tables, Custom-molded bucket sings and the premier Sway Fun® Glider, with spots for several kids, along with two wheelchairs.  There is a splash pad and bankshot basketball adjacent to the playground.
Next head to the Castle Playground another accessible playground. In this magical place, children can allow their imaginations to whisk them off to a time and place of kings, queens, knights, maidens, dragons, and ogres.
Forrest L. Wood Crowley's Ridge Nature Center offers visitors the chance to experience and explore a unique piece of North America and its wildlife. The facilities may be toured Tuesday-Friday from 8:30 a.m. until 4:30 p.m., Saturday from 9 a.m. until 6 p.m., and Sunday from 1 until 5 p.m. In addition to self-guided exhibits and trails, the center offers many nature education programs and activities. The daily"Feeding Frenzy" happens at 3:30 p.m., and the popular "Crowley's Ridge Movie" runs every half-hour.
The Family Fishing Area is located near Access #5. With its location near Rotary Centennial Park and by being fully accessible, the family fishing area was created to help all children enjoy outdoor recreation and fishing. This part of the lake is extra special because the Arkansas Game & Fish Commission stocks this area more heavily with brim, bass, and catfish, and adds trout in the winter and tilapia in the summer. Anyone can fish in the Family Fishing Area as long as they have a child with them.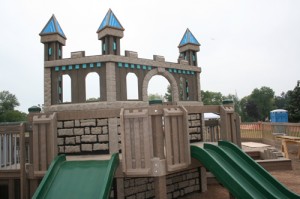 In order to rethink how people play, this group working with Leathers and Associates designed the playground from the ground up- literally. Then over the course of 6 days nearly 3,000 people volunteered to help build Possibility Playground.
The double-wide ramping allows all children to get to all areas of the playground, and there is even a Pirate Ship complete with waves, a rain wheel and a motion platform. Countless opportunities to learn and play fill an area the size of a football field. Here, children can play side by side on specially built monkey bars, drum on a musical alligator, and run across bridges- all without worrying about issues of balance or mobility.
The playground includes Hanging Pods, an Alpine Thunder Slide, a Tire Swing, a large Climbing Net, a Therapeutic Swing, Sand Play, a Number Game, a Rocker and Surf Board. By visiting their website, you can learn the benefits of each the pieces featured in the playground.
7. Magic Smiles–Minot, ND Map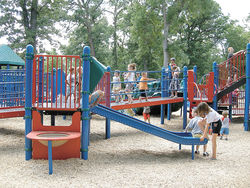 Magic Smiles includes wide ramps that allow easy access throughout the structure, the Sway Fun glider, which provides an area for children in wheelchairs and their friends to experience the swaying motion, a Cozy Dome, which allows over-stimulated children a place to take a break, and other sensory features such as the Xylofun and Bongo Panels to stimulate the senses.
Dakota Fence and Landscape Structures designed and facilitated the building of the playground, and more than 100 volunteers from eight area organizations assisted with the building, contributing more than 600 hours of time.  The playground won $10,000 from O Magazine through a "Be Colorful" contest with Vera Bradley
Oak Park where Magic Smiles Playground is located also has trails, a splash pad, shelter and more.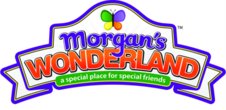 Morgan's Wonderland is the first Ultra Accessible Family Fun Park.  This Fun Park includes an incredible amount of play and amenities for children and their families.  View Pictures of all the Attractions
Specially designed air-conditioned/heated and oversized ADA-accessible restrooms
3 playscapes
Train rides with wheelchair-accessible cars
Ultra-accessible carousel
Amphitheater
Catch-and-release fishing
Water cannons & remote-controlled boats
Gymnasium (basketball, volleyball & tennis)
Special Event Center for up to 700 guests
Walk and Roll Path around lake
"Around the World" – themed rest areas
Water Works – water play area
Off-Road Adventure ride
Music Garden
Swings (several types including wheelchair swings)
Sand Circle™
Sensory Village™
Garden Sanctuary with Memorial Wall
Several rest stops, picnic areas & pavilions
2 first aid stations
Braille signage, 3-D park model & service-animal rest area
Gift shop
VIA Transit Center
Reservations are suggested prior to each visit to Morgan's Wonderland. Reservations may be made online or by phone (210-637-3434). First time users will set up an account making future reservations much easier and faster.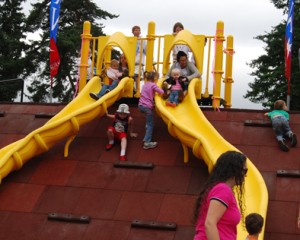 The City of Auburn received a spotlight facility award at the annual Washington Recreation & Park Association (WRPA) conference last month, receiving the highest honor for the Discovery Playground. The judges were impressed with the features of the playground and the successful fundraising efforts. Spotlight award categories included parks, facilities, sports complexes, special use areas, websites, posters, special events, and adult or youth programs. The Discovery Playground also received Best Community Service Program from the Washington Festival & Events Association at their annual conference in March.
Auburn's new 32,000 square foot Discovery Playground opened in June 2010 to the delight of thousands of children. This unique playground features accessible surfacing; play opportunities that support all levels of development; elevated sand tables, water, and auditory elements; cozy spots to gather; areas to swing, spin, balance, roll and play. Tactile surfaces and a sensory garden include an integrated system of spaces devoted to the five senses: see, hear, touch, taste and smell. The playground was designed with the physical, sensory and developmental abilities of all children in mind and is a place where children of all abilities learn together through play, develop essential life skills, and participate in an environment where compassion and acceptance flourish.  View pictures of the playground equipment.
Discovery Playground is located in Les Grove Park, where you can also find Bocce Courts, Rotary spray playground, Horseshoe Pits, ½ Mile Paved Looped Trail, Public Artwork, Restrooms, Views of Mt. Rainier, Exercise Stations, Softball fields. There is also a library and a one story museum that includes reconstruction of a log cabin, the reproduction of Auburn's Main Street at the turn of the century, a caboose representative of the railroad history of Auburn, and a representative display of the native Americans and other early residents of the area.
View an 11 minutes video of Discovery Playground and learn more about why parent's who are raising children with disabilities are willing to drive across the country to find truly barrier-free playgrounds.