Meet the new generation of playground surfaces!
Playground Grass by ForeverLawn is lush, beautiful synthetic grass that is safe to play on, soft to fall on, and cost effective. Playground Grass offers many unique benefits, including:
A soft, cushioned play surface with fall zones safety-rated to 13 feet
An ADA accessible play surface
A consistent safety rating even after heavy use over time
Antimicrobial protection available for a cleaner, safer playground
The Industry Leader in Artificial Grass for Playgrounds
At ForeverLawn, we believe in our slogan, "we're not just ahead of the curve, we're defining it." From the launch of Playground Grass in 2004, we have set our minds to creating the best, safest playground surface available. Since no synthetic grass safety surfaces existed at the time, we had to create many of the specifications that are utilized today throughout the industry.
There are many lessons we have learned throughout this process, which have resulted in major improvements in the safety surfacing industry. Some of ForeverLawn's innovations include the development of a unique blade design to ensure longevity, the implementation of a superior micromechanical seaming process for stronger and more attractive seams, and the use of nailer boards to secure the perimeter of the surface.
Even though our materials are of the highest quality available, we understood that without proper installation, the benefits would not be seen. This is why we have implemented an IPEMA-certified training class that each and every ForeverLawn dealer is required to complete.
We have worked through the issues for many years, and have perfected our systems and processes to ensure the utmost in safety, longevity and aesthetic quality in every playground surface we install. Why trust your playground surfacing to anyone else?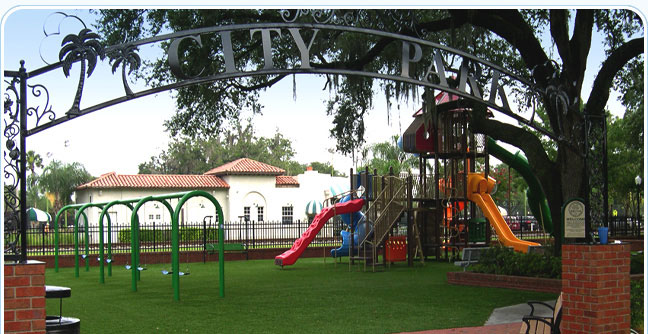 Explore our Products
Playground Grass Extreme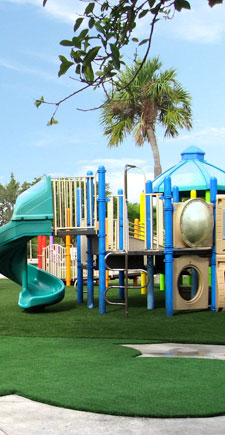 Extreme is the product that started it all. Made up of two types of blades, it incorporates high durability and realism into one quality product. A combination of XP blades and textured monofilament blades help fill the product and reduce infill flyout. Installed as part of our safety system, Playground Grass Extreme is the perfect finish to a great playground. Visit playgroundgrass.com for more information and product specifications.
Playground Grass Ultra
Playground Grass Ultra uses lightly-textured polyethylene blades with a textured nylon thatch zone to create a full, dense and safe product. The fullness comes from the construction and the additional safety is a result of the AlphaSan® antimicrobial agent that is built into the blades. The thatch zone helps hold the infill in place to nearly eliminate infill flyout. This revolutionary synthetic grass is ASTM 1292 safety rated, ADA accessible, and IPEMA certified. Playground Grass Ultra has the added benefit of our exclusive, patent-pending XStatic™ antistatic technology. Don't come up short on your kids safety. Trust Playground Grass Ultra. Visit playgroundgrass.com for more information and product specifications.
Playground Grass Discovery
Playground Grass Discovery was designed with smaller children and unique indoor environments in mind. This is not a discussion of durability, as this is as durable as they come, but the use of soft XP fibers, constructed in a short, dense product (with a thatch) means there is no need for infill. Kids can't put it in their mouths or get it in their eyes, because it isn't there. Discover the finest in playground surfacing with Playground Grass Discovery.  Visit playgroundgrass.com for more information and product specifications.
Playground Grass Academy
Playground Grass Academy combines several different features to move it to the front of the class in playground surfacing. Taller XP blades mixed with the natural appearing tan thatch provide the ultimate in realism with a highly durable construction. The tan thatch also provides for the "hide and hold" feature related to infill. Stay in compliance, without all the work, with Playground Grass Academy as part of your fall safe system. Visit playgroundgrass.com for more information and product specifications.