Unique Playgrounds, Imagined by Children, Built by Community
More information to come,  In the meantime, please visit Leathers and Associates website.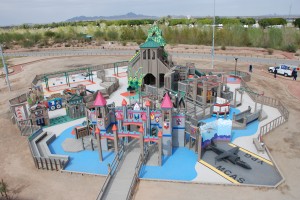 When Bob Leathers opened his architectural business he planned to specialize in residential design and construction. But in 1971, he was asked to organize a group of people to build a playground at his children's elementary school in Ithaca, New York.
Bob interviewed the students at the elementary school and based his design on their ideas. The parents and the children worked together to create a magical structure. News of the project's success quickly traveled to nearby communities, who were soon asking Bob's firm to help them create playgrounds. Thus began his community-built career, which has now spanned more than three decades. As news of his playgrounds spread, projects began to sprout up farther away. Since that first playground, the firm has worked on almost 2,000 projects throughout all 50 states as well as 7 other countries.
Many things have changed over the years. Bob's son, Marc Leathers, now owns Leathers & Associates. Marc has worked with the firm since he was a teenager. He and Bob worked together to complete a community-built playground at Marc's children's elementary school. Many parents who were once children helping design Leathers' playgrounds are now helping to coordinate community-built playgrounds for their own children.
Leathers & Associates designs playgrounds that meet or exceed ASTM International and the Americans with Disabilities Act guidelines for public playgrounds. Our construction system is uniquely adaptable to a broad range of design strategies. We typically integrate accessible elements throughout the play structure to encourage shoulder-to-shoulder play experiences among children of all abilities. Keeping in mind that not all children with disabilities do not use a wheelchair, we encourage communities to form special-needs committees so that we can address specific local needs. We have worked with a school for the hearing impaired, a school for blind children, and a home that cares for medically fragile disabled children.