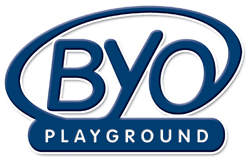 BYO Recreation is dedicated to accessibility. All of the playground equipment we carry is ADA accessible because we believe that every child should have the opportunity to have fun and play. Our mission is to help our customers create Beyond Your Ordinary recreation spaces that everyone, regardless of physical ability, can enjoy.
Established in 1999 by Bill Calhoun, BYO Recreation started out small with an idea and a backyard swing set. His idea has grown from that simple backyard swing set to large commercial playground structures that have inspired creativity and imagination in children all over the world.
Our company has expanded to become a comprehensive playground equipment distributor, providing schools, churches and communities with high-quality, accessible playgrounds and recreation equipment. Committed to excellence, we specialize in designing custom accessible playgrounds for our customers and helping them create play environments that are safe, affordable, fun and accessible.
Among our wide selection of playground equipment, we include:
Custom ADA playground structures
Swing sets
Accessible playground surfacing
ADA playground events
We have made accessibility a priority at BYO Recreation. We continually stress the importance of making commercial playgrounds accessible so everyone can play. Not only do we ensure that our playground equipment is accessible, we make sure our products across the board are accessible as well. We carry recreational products that are ADA compliant so our customers can create recreation spaces that are completely inclusive.
We provide our customers with a great selection of recreation equipment as well as school furniture, supplies and equipment, which is available through the BYO Recreation brand Teachers' School Supply. Together, BYO Recreation and Teachers' School Supply are a complete source for schools and churches.
For more information, visit us at www.byorecreation.com, and www.teacherssupply.com.