County of Chesterfield
A Playground for Katie and Friends–located within Huguenot Park, 10901 Robious Road-Richmond.
Dulles
Hadley's Main Street USA Playground–at Dulles Town Centre, 21100 Dulles Town Circle.   This 5000 square foot playground was built in keeping with the "shopping theme," and was built around Main Street USA, where you have everything from your local bank to a post office.
Franconia
Big Chessie's Backyard–located at 6601 Telegraph Road.  This is Chesapeake-Bay themed playground that is fully accessible and incorporates slides, swings and other equipment specially designed for use by all children, including those with special needs.  There is also an accessible spraypark and treehouse in the same park.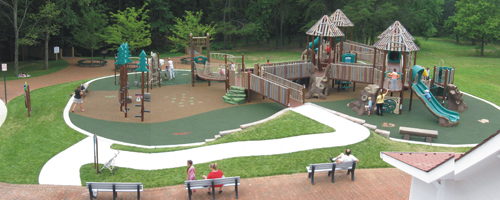 Read more about Big Chessie's Playground
A Dream Come True" Playground— located in a new Harrisonburg Department of Parks and Recreation Park on the East side of Neff Avenue just South of Sun Chase Apartments. Nine years in the making, the Dream Come True Playground is now open. Words cannot truly provide the essence of this playground. Please visit the Harrisonburg Parks and Recreation Department to see multiple pictures of the playground.
McLean
Clemyjontri playground (AKA Clemy Playground)–-6317 Georgetown Pike  This is a huge playground.   The myriad of multi-colored components connected by wide ramps is just one aspect of Clemy playground.   Other parts that help distinguish it include a wheelchair-accessible drag strip with a multi-functional color tree using red, green and amber flashes to direct traffic and descending numbers to help direct those children who cannot separate colors; sensory-oriented parts such as spinning cups and voice-activated components; a moveable helicopter where wheelchairs can be attached; a flush mounted carousel; and a maze with multiple solutions that can be read by children who are visually impaired or are developmentally challenged. Read more
Newport News
Boundless™ Playground at Deer Park–11532 Jefferson Avenue
Town of Leesburg
Brandon Park is located on Harrison Street, between Catoctin Circle and Tuscarora Creek.  In addition to Brandon Park Handicap Accessible Playground, the park includes a trail that connects the street to the playground.  The trail is being constructed will become a part of the South King Street Trail Extension. That project will provide pedestrian and bicycle access to the park between the W&OD Trail near the Douglass Community Center and South King Street near Davis Avenue.
Virginia Beach
JT's Grommet Island Beach Park and Playground for EveryBody—located at Oceanfront between 1st and 2nd streets.  Surrounded by palm trees and a rubber play surface, a new play park on the Oceanfront features cameras where visitors can look out into the water and view surfers or dolphins.  It also has musical drums, a playground with monkey bars and slides, a boardwalk that leads out to the water and a sensory wall for the autistic and visually impaired.  The playground equipment comes from Landscape Structures Inc and the playground consultant on the project was Sparks@Play. There are three paths that take you near the water where you help build sand castles with sand scoops. Beach wheelchairs will be available.  There are shaded as well as sun areas for you to hang out.  There is a long, gently-inclined ramp that leads to a "lookout" deck six feet above the ground. The deck has room for four wheelchairs, as well as several accessible telescopes. It provides a bird's-eye view of the park, beach, and ocean that who use wheelchairs rarely get to see. This unique play space has an extensive ramping system to take children using mobility devices to the center of the action. Some of the components included are the Sway Fun®, a Sensory Play Center™, accessible cyclers, various climbers and slides.  Read the story behind the playground as well as a story about a 15 year with muscular dystrophy's design assistance.
Kids Cove at Mt. Trashmore–310 Edwin Dr.At nearly 26,000 square feet, the playground is comprised of three distinct play areas built on a rubber surface: a giant play structure that includes a multitude of slides, elevated walkways, climbers and more; an area that has swings for all ages; and an area comprised of a variety of climbing structures. Benches and picnic shelters are available throughout the playground.  Read more about Kids Cove.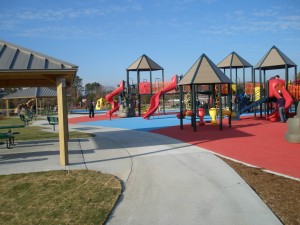 Williamsburg
My Place Playground–located at the Williamsburg-James City County Community Center, 5301 Longhill Road.  This playground was created by the Leadership Historic Triangle class of 2009.  The playground includes swings, many different types of spinning and bouncing equipment, and musical drums.  View a video of the playground's opening.
Winchester
Children's Dream Accessible Playground–located within Jim Barnett Park, 1001 East Cork Street.  In addition to the playground, the park includes an indoor and outdoor pool, a fishing lake, a miniature golf course and much more.