For a full listing of playgrounds in Ohio, please visit our Accessible Playground Directory
All Children's Playground is located at Beech Acres Park--6910 Salem Rd.   The Anderson Township Park District has created a playground at Beech Acres Park where all children, with and without disabilities, can play and learn together in a healthy recreational environment. This inclusive playground inspires both active and imaginative play. It has proven to be a hit with children of all ages and abilities since the playground's grand opening in 2007.
For children ages 0-5,  there is a Tot-lot complete with a train and train station. There are swings, a sand play area, and a playhouse.  There is also a mini-mountain, and an arched bridge with walking paths and shaded pergolas. Tying the river and village themes together is a unique surfacing.
For children ages 2-5 there is a unit featuring slides with a rock climbing component and a bridge. There are also bongos to enjoy making music with. For older children there are Sasquatch-tall climbing boulders and a massive fort-like play unit.  For everyone, regardless of age, there is a riverboat Shelter, a seasonal water play area, and a Sway® Fun.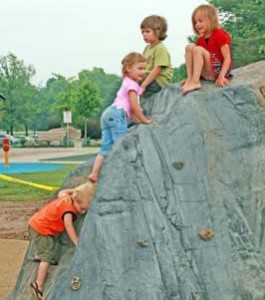 Every Child's Playground located at Sawyer Point, 801 E. Pete Rose Way.  Hundreds of volunteers built this 1,000 Hands Project. The playground is in the shape of an old fashioned riverboat. There are slides, swings, a music area and a special play village that allows not only physically disabled children to play, but includes children with cognitive disabilities as well. Read the description of a local parent.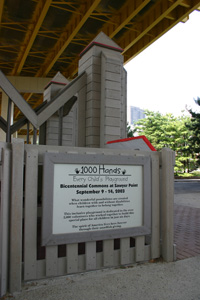 Mt. Airy Forest — 5083 Colerain Ave.   Mt. Airy has Ohio's only wheelchair accessible public treehouse designed by Forever Young, an enclosed dog park, and disc golf; along with miles of hiking and horseback riding trails.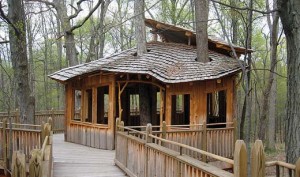 Parky's Playbarn and Adventure Station — located at Parky's Farm in Winton Woods, 10245 Winton Road. Old McDonald's Farm comes to life to delight city children with a petting zoo here, and a giant playbarn there, and everywhere a downright fun time.  The playbarn is a two-story indoor playground with a soft floor where kids can run and tumble and climb.  In nice weather, the children can also enjoy Parky's Ark, an outdoor water playland, and Parky's Place, an outdoor playground located at Winton Woods Harbor. For parents, Winton Woods offers hiking and biking trails as well as golf.  **Please note that there is an entrance fee.