This is a few examples of playgrounds in Ohio, for a full list please visit our Accessible Playground Directory
Beachwood
Preston's H.O.P.E. — Located on the property of The Mandel JCC, 26001 South Woodland Rd. The largest fully accessible playground park in Northeast Ohio. Here are a few examples of its accessible features: The park is wired with sounds (train whistle, flowing water, etc) that can help a sight impaired child navigate. The large windows in the village houses allow parents to use sign language to communicate with hearing impaired children while they play inside. Broad ramps throughout the park let youngsters in wheelchairs get a loftier view of the world. The slides have transfer decks so children in wheelchairs can be helped onto the equipment.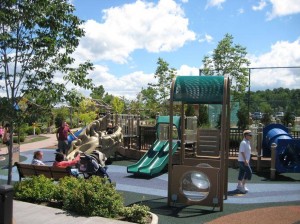 Cambridge
Cambridge City Park — McKinley Ave & Lakeside Dr.   This GameTime playground includes swings, slides, coil-spring rides, climbing platforms and activity panels, and is treated with an added safety feature of a rubberized coating.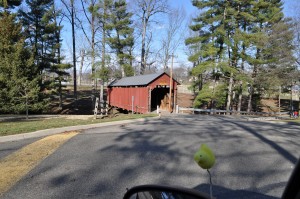 Circleville
Mary Virginia Crites Hannan Community Park — A Boundless™ Playground is located off Rt. 188 on Pontius Road. A handicapped-accessible playground including a paved 1.2-mile loop trail were the first features of the 74-acre park. A splash pad has since been added. There is also a butterfly garden, a bird watching station and a fire pit. **Read an article about Ralph Starkey, one of the creators of the park.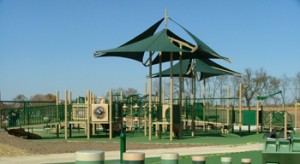 The City of Ravenna
Ravenna Community Playground — Located in Chestnut Hills Park, on North Chestnut Street in Ravenna. This Leathers and Associates playground features a toddler section, a sandlot, and a castle.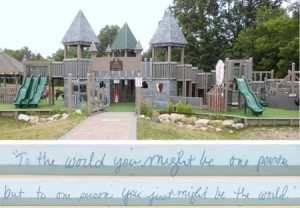 Colerain Township
Clippard Park Boundless™ Playground — 10243 Dewhill Road. This Boundless™ Playground, along with Leather and Associates, and 100's of community volunteers is an accessible playground with plenty of ramps, play equipment, and tons of swings and even swinging benches. There are climbing features, a music area, a sandlot with backhoes and water tables. And when you need to rest, there are covered tables.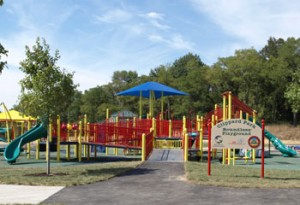 Columbus
Carriage Place Park — 4900 Sawmill Road. Carriage Place Park Playground was built by volunteers in a day in September 2009. This 13 acre park also features a picnic area, a recreation center, and a trail.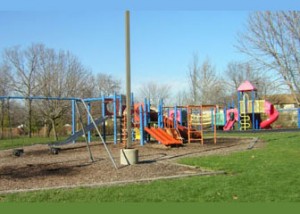 Dayton
W.S. McIntosh Memorial Park–W Riverview Ave  Located a half-mile from a historic Wright Brothers site, the Landscape Structures Inc play structure features elements commemorating the brother's aviation and cycling successes.  The playground consultant for this playground was Service Supply.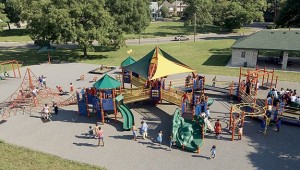 Euclid
Playground of Possibilities — located at Bexley Park. This Leathers and Associates designed playground has a scarecrow playhouse, swings, a Treehouse, elephant spring toys, and much more. Parts of the playground has shredded rubber for surfacing.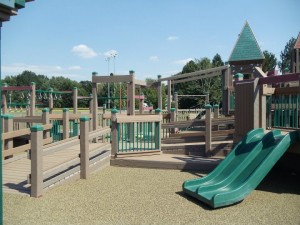 Mason
Thomas P Quinn Park – 880 Tradewinds Drive. This neighborhood park  features a handicap accessible playground along with tennis, basketball.
Newark
Newark Rotary Accessible Playground–located on Sharon Valley Road just north of the OSUN/COTC campus.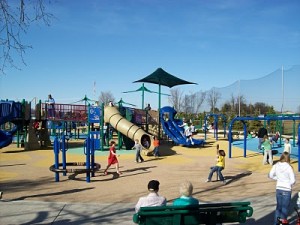 Powell
Liberty Township Boundless™ Playground — 2507 Home Rd. This Boundless™ Playground includes a double-seater see-saw, and a Sway® Fun Glider. There are plenty of ramps and swings of all types as well as a digging toy and sand play area.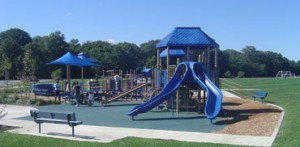 Stow
S.O.A.R. Playground — A Boundless™ Playground located at Silver Springs Park, 5027 Stow Road. Stow Outdoor Accessible Recreation playground includes a variety of stimulating opportunities for self-directed, challenging and independent play in a barrier-free environment. This play space allows children of all abilities to play, explore, and imagine with their friends and families.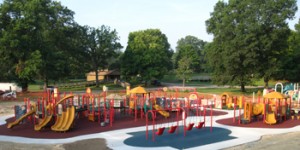 Warren
The Valley's Inclusive Playground –– located within Perkins Park, 391 Mahoning Ave. The Valley's Inclusive Playground (VIP) provides disabled children accessible learning and skill panels, music panels and other activities. There are specially designed ramps and cushioned flooring for easy wheelchair maneuverability, a swing designed to allow a child to stay in his/her wheelchair while swinging, and other swings to hold kids in place while on the equipment.
West Chester
Hopewell Elementary School Boundless™ Playground — 8300 Cox Road.
Westerville
Millstone Creek  Park — 745 N. Spring Rd.  This unique playground includes traditional playground equipment, futuristic equipment, and a nature play area.  The Park is completely accessible. Playground design provided by Playworld Systems. Read a full description of the park.