This is just a few examples of New Jersey playgrounds, for a full list please our Accessible Playground Directory.
Colts Neck
Challenger Place — A Boundless Playground™ resides in the Dorbrook Recreational Area, 207 County Road 537 E.  Next to Challenger Place is a spray park. Comments, reviews and pictures are available at NJ Playgrounds.  The playground includes a see-saw and bouncing animals with back supports as well as a Sway Fun Glider.  See a pictorial tour of the playground.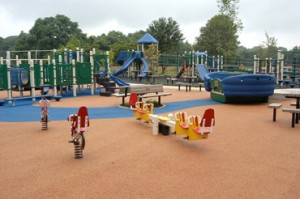 Elizabeth
Phil Rizzuto Park Boundless™ Playground — Morris Avenue.  The park is a 10.4-acre multi-use facility that also contains a Boundless Playground™ area, which allows children with disabilities to play along side their peers. Comments, reviews and pictures are available at NJ Playgrounds.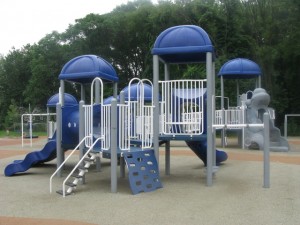 Hamilton
Hamilton Township's Accessible Playground — resides in Veteran's Park, off Whitehorse Hamilton Square Road. The playground includes wide ramps that are wheelchair accessible, adaptive swings, several slides and climbing areas. Adding to the fun you will find a low-height "Toss-n-Score" Basketball Basket,  and a large "Sunblox Sail Roof" providing covering from the sun on warm summer days. There is also a "Whirl Wind" spinning seat, "bouncing" stationary cars and a See Saw.
Long Beach
Tony's Place –– resides in Seven Presidents Oceanfront Park, 221 Ocean Avenue North.  This universally accessible playground is the second joint venture playground project of the Monmouth County Park System, Challenged Youth Sports, based in Middletown, and Friends of the Parks. You can see great pictures of the playground on NJ Playgrounds.  Take a video tour.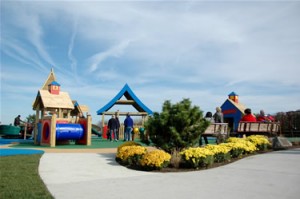 Medford
Fort Medford Playground — resides in Bob Meyer Park, 100 Commonwealth Drive, off Gravelly Hollow Road next to the public works garage. Fort Medford Playground is themed after a fort with ramps that lead up to decks with play panels on them. This park also includes swings and slides. Other components include an interactive musical wall, a sandbox, a sway boat and a roller slide that is designed for children with no lower body mobility.  You can read more about it on NJPlaygrounds.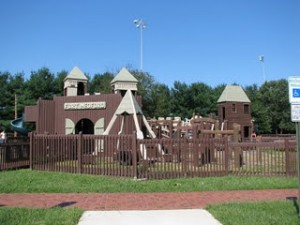 Montclair
Edgemont Memorial Park–20 Edgemont Rd.  Comments, reviews and pictures are available at NJ Playgrounds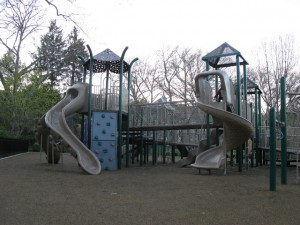 Sayreville
Center for Lifetime Learning–located on Cheesequake Road.  The Center for Lifelong Learning is a 89,000-square-foot special education school. It was chartered through the Piscataway-based Middlesex Regional Educational Services Commission.  The grounds include an accessible playground open to the public during non-school hours.  Old Bridge-Sayreville Rotary Club provided the funding for the playground.
Teaneck
Votee Park — Palisade Avenue and Queen Anne Road, North of Route 4. Located at the north end of the Park, the fenced-in, colorful playground is 100% wheelchair accessible.The main play structure geared for children 5-12 years old incudes 7 different slides, a variety of climbing events, balancing floating stones and log roll, upper body challenges, wheelchair ramps, transfer stations and an assortment of play panels to stimulate imaginative play. For the 2-5 year olds, ground level play panels, spring animals, ground level climbing animals, a fire truck and balance beam are available also for imaginative and stimulating play.  Colorful accessible, tot, and belt swings are placed on the perimeter of the playground for children 2-12 years old. You can read more about Votee Park and see more pictures at njplaygrounds.com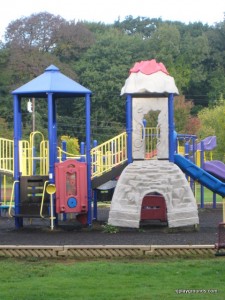 Wexford
Ronan McElligott Memorial Playground is located at Edwards Beach on Williams Avenue.  This is a Boundless Playground™ and the playground equipment is from Miracle Recreation.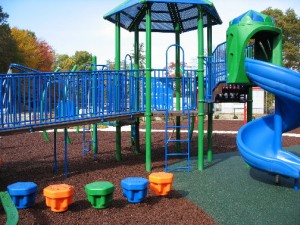 Woodridge
Matthew Jago School–#28, Glen Cove Avenue, Sewaren This Boundless Playground™ has wheelchair access ramps, swings, platforms and seats. There are monster sliding boards & tube slides as well as climbing ladders. To add to all the fun there is a crazy maze adventure area. There are also benches and tables to provide resting areas.
Ventor
CSURE Playground — located at Somerset Avenue and Beach Park.  This Leathers and Associates designed playground features a sand and music areas, tunnels, slides, and bridges. *If you have a favorite picture of the CSURE Playground that you would like to share with accessibleplayground.net please do!