*Ann Arbor
Boundless™ Playground at High Point School — 1735 S. Wagner Road. This was an  Able to Play project whose criteria included thatchildren with physical disabilities be able to play on, and with, at least 70 percent of the play activities in order  to strive  for greater "integration" of all children.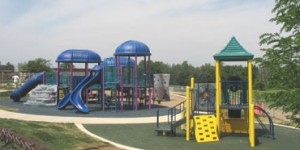 Battle Creek
*ANYbodies Playground — is a Boundless Playground™ and resides in Bailey Park, 1400 N. Capital Avenue.  There is playground equipment in this playground from multiple playground manufacturers including GameTime and Miracle Recreation.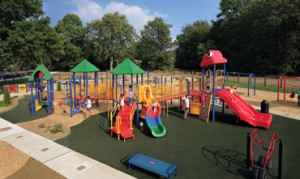 Belmont
Versluis Park — 6161 Belmont Ave Ne.  Versluis Park was created on the shore of a 50 acre man-made lake and designed to provide a fully accessible recreational experience.    Today, Versluis Park features playground areas, picnic facilities, horseshoes & volleyball, beach and swimming areas with lifeguard stations and a bathhouse, fishing pier, boating, and one mile paved walking trail.   In 2005 Plainfield Charter Township and the Parks & Recreation Department were presented the da Vinci Award for Versluis Park.   The award recognizes the most innovative developments and research in adaptive and assistive technology that embrace the Universal Design Principle, ultimately enabling everyone to participate and contribute in all aspects of society. When the Versluis Park Project was first conceived, the township wanted an Inclusive Design that would create a fully accessible park all residents could enjoy.  How well they succeeded was published online by the National Center on Accessibility of Indiana University in April, 2002. You can read the article here.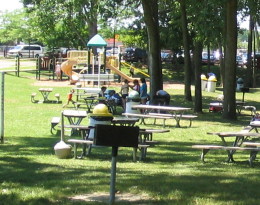 Blissfield
*Friendship Village — is a Boundless Playground™ and resides in Bachmayer Playground, 110 Veterans Avenue.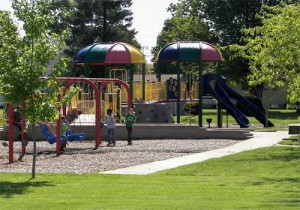 Bloomfield Hills
Wing Lake Development Center Playground — 6490 Wing Lake Road. This playground is a Boundless™ Playground.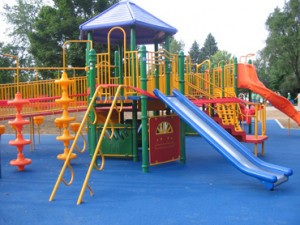 City of Portage
Ramona Park–8600 South Sprinkle Road.  The playground is located at the back of the park, by Long Lake. It has both a large play structure for five- to 12-year-olds and a smaller play structure. The playground has a Sway Fun, two bouncing bug toys, a spinning toy and a PlayMotion X-Wave 2.
Detroit
*Dad Butler Playfield — is a Boundless Playground™ and is located at 2034 E. Eight Mile Road.  The Dad Butler Playfield is a barrier-free play area. The playground has climbing structures, slides, and swings, and is located adjacent to soccer fields, baseball diamonds, and a picnic area.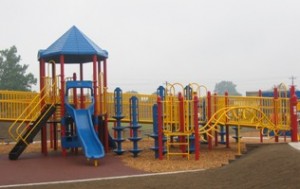 *Delray Community Center Boundless™ Playground — 420 S. Leigh Street.  Playground equipment comes from Playworld Systems.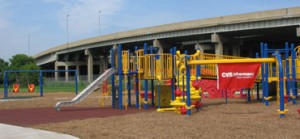 Flint
Longfellow/Summerfield Play Area –– A Boundless™ Playground is located at 1360 Melbourne Avenue. The Longfellow/Summerfield Play Area was rated in the Top 5 Best Playgrounds in Flint.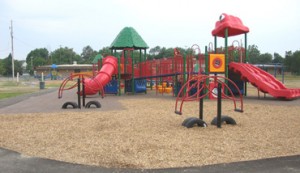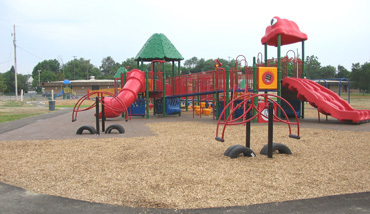 Goodells
Pine River Nature Center — 2585 Castor Road.  The universally accessible treehouse by The Treehouse Guys at the nature center is available for public visits. The treehouse was built as part of an Access to Recreation grant through the Community Foundation of St. Clair County. The Access to Recreation program was awarded to the Community Foundation by the W.K. Kellogg Foundation as part of the Kellogg Foundation's efforts to expand opportunities for people with disabilities to enjoy the outdoors.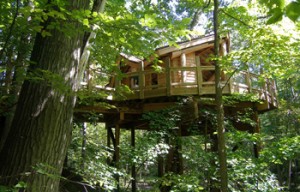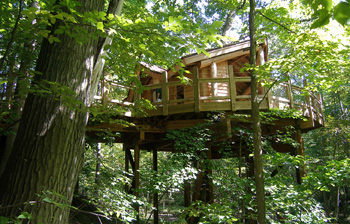 Hillman
*Tiger Paw Park Playground, -resides in Hillman Tournament Park, East Progress Street.  Open from dawn until dusk.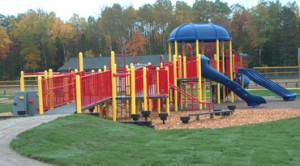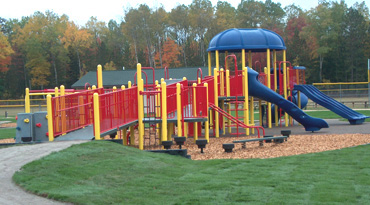 Holland
*Rotary Playground — A Boundless™ Playground donated by the Rotary resides in Smallenburg Park.  Playground equipment comes from Miracle Recreation. This is a family oriented park and playground adjoined by the Bouws outdoor community pool and the Holland Municipal Stadium which is used for interscholastic football and soccer for area schools and Hope College.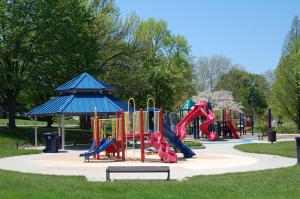 Kalamazoo
*Upjohn Park — A Boundless™ Playground and includes a Sway Fun Glider. This playground is located at Lake & Walters Streets.  Upjohn Park is 18 acre park that contains Kik Pool which is the only 50 meter outdoor swimming pool in the Kalamazoo area.  The park also includes the City of Kalamazoo's first skateboard park, a rugby/soccer field, tee ball/softball field, basketball court, tennis court, and picnic shelter.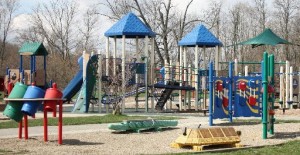 Lansing
*North School Community Playground — This Boundless™ Playground is located at the Henry H. North Elementary School, 333 E. Miller Road.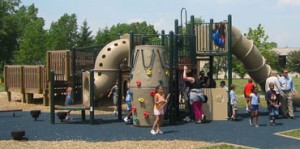 Lawton
Kids Dream--located in Chancy Lewis Park, 520 S. Main St.  It is wood playground with steps, bridges, monkey bars, rope ladders, shaky platforms and more. There is only one entrance and exit, making it easier to keep track of children. There is a separate Tot Lot area with small steps, a slide, a sandbox, monkey bars and large wooden cars to "drive." The playground is nicely shaded.  The playground as designed by Leathers and Associates.  Read a review of the playground.
Monroe
*The Monroe Welcome Center Playground — A Boundless™ Playground located at the Monroe Welcome Center off of I-75 Northbound at 10 Mile Marker.  Playground equipment comes from Miracle Recreation.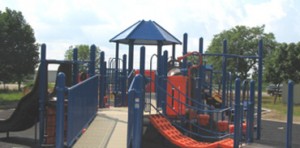 New Buffalo
*The New Buffalo Welcome Center Playground — A Boundless™ Playground located at the New Buffalo Welcome Center on Interstate Hwy 94 East.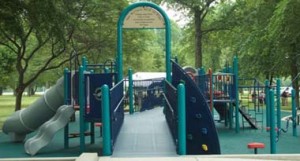 Saginaw
*Rainbow's End — A Boundless™ Playground resides in Krossroads Park at Fashion Square Boulevard.  Rainbow's End is the largest accessible playground in MI with equipment from Miracle Recreation.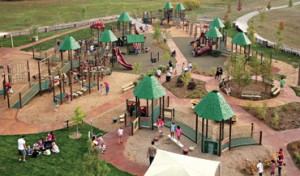 Sandusky
*Sandusky City Park Boundless™ Playground–West Speaker Street with equipment from Miracle Recreation.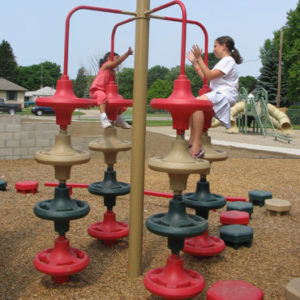 Southfield
*Children's Play Farm — A Boundless™ Playground includes a Sway Fun Glider resides in Inglenook Park, 20901 W. 12 Mile Road.  This playground . The Play Farm at Inglenook Park consists of farm-themed play equipment, including tractor bouncers, animal cutouts and an enormous playscape that has red barn top roofs throughout. The new Play Farm will be the largest playground in the city, complimenting the existing fitness trails, ball diamonds and the restored Miller Barn at the 42-acre Inglenook Park. The safety fall zones surrounding the play equipment are covered by a combination of rubber and wood fiber safety surfacing. The Play Farm exceeds federal standards for accessibility, allowing children of all abilities an opportunity to play together. Federal guidelines require that 50 percent of a playground's elevated structure be accessible. By comparison, a "Boundless Playground" requires that at least 70 percent of play activities serve children with physical disabilities, allowing for greater "integration" of all children.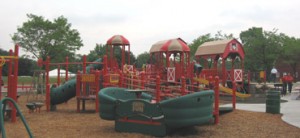 Traverse City
Eastern Elementary School Playground — 1600 Eastern Ave.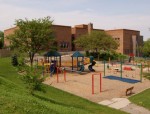 Watersmeet
*Western UP Boundless™ Playground — Watersmeet Township School, N 4720 Hwy. US-45.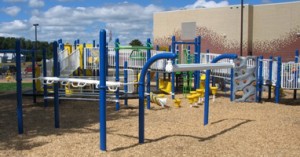 Wayne
*Play 4 All — A Boundless™ Playground resides in Soroptimist Park, 5100 Woodward St. "Play 4 All Boundless™ Playground at Soroptimist Park surpasses the Americans with Disabilities Act (ADA) accessibility guidelines," said Alexander. "All children regardless of ability are now able to do more than simply access a playground… they are interacting with one another… and playing side-by-side with their peers." Most people wouldn't be able to tell a Boundless™ playground from any other playground at first glance, but the difference would be apparent to someone with a disability. They would see how the Boundless Playgrounds layout includes them in the fun – how it is possible to get to the highest play deck to feel like king or queen of the hill and enjoy gathering with friends in cozy spots.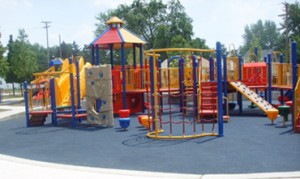 Waterford
*Paradise Peninsula Playscape–is located in Waterford Oaks County Park, 1702 Scott Lake Road.   The play structure, whose theme in Michigan Landscape,  include: an "Up North Woods" cabin, simulated tree fort, sand dunes area, marsh challenge course with simulated cattails, raised sand play area and multiple climbing structures.  Colorful rubberized surfacing depict Michigan's Lakes and rivers. Read, see and hear more about this playground. You can also like Oakland County Parks and Recreation on Facebook and follow for any news and upcoming events.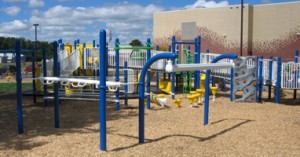 West Bloomfield
MarshBank Park — 2805 Hiller Rd.  In addition to a ramping system, this Landscape Structures' PlayBooster® playstructure offers unique play experiences with many sensory play panels, bridges, slides and climbers. Children of all abilities will be right in the middle of the action while visiting this inclusive play space. The playground consultant was Superior Play.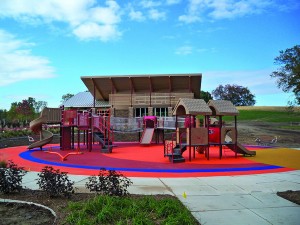 Wyoming
*Frog Hollow Boundless™ Playground –– resides at Metropolitan Hospital Health Village, 2050 Metro Court.  The park includes telescopes, musical instruments, art, poop-stations for dogs, crazy carnival-mirrors and more!  Close to Metro Health Hospital, Hyatt Place Hotel and there is a Biggby coffee out front so Mom or Dad can put on that caffeine buzz and transform into super-parent again.
You can see more of the fun to be experienced at City of Wyoming Frog Hollow Park.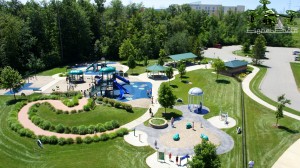 *A Boundless™ Playground, funded in part by the W.K. Kellogg Foundation.  Many in honor of the Foundation's 75th anniversary.