Jefferson
Jefferson Park–4100 South Drive. This is Family Fitness and Fun Park built by American Academy of Orthopaedic Surgeons in partnership with KaBOOM! There is equipment for balance, flexibility, strength and a walking/running track for aerobic exercise. In the middle of the Park there is a safe, accessible playground. The various activities of the Park help reduce and prevent falls, build strong bones and give those recovering from joint replacement a safe place to exercise. The different stations will include descriptions of how to do the exercises, why they are important and injury prevention tips. This is truly a place where three generations — children, parents and grandparents — can get fit and have fun together!
Lafayette
Parc Independence–located in Girard Park – 500 Girard Park Dr. here are extra-wide entrances and ramps and swing sets to accommodate wheelchairs, plus limited entrance and exit points to help parents watch their children.  The equipment is from Miracle Recreation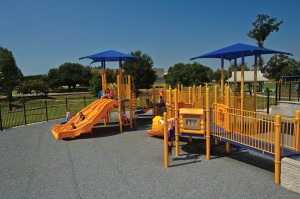 Lake Charles
Shiver Me Timber Playground–resides in Millennium Park at 900 Lakeshore Drive.  The Playground was built by thousands of volunteers over a five day period.  The playground features a bigger than life 40 foot long Shiver Me Timbers Pirate Ship. It's right next to the Eagle's Nest, a huge climbing structure.  This two storied ship features a climbing cargo net, portals, decking and ramps.  See pictures of this Leathers and Associates playground.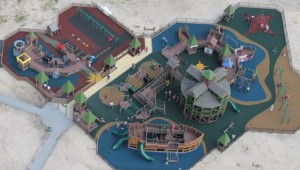 Mandeville
Kids Konnection Playground –Located at the trail head of St. Tammany Trace, 21411 Koop Rd.    There is a fence and gates to offer added safety for parents of all children. The surfacing of the playground provides added safety and accessibility. It is "latex free," allowing individuals with Spina Bifida to play without the worry of exposure to latex.   The Roller Slide was added to the design to offer a slide that individuals with Cochlear implants could enjoy.   The Sway Fun offers a safe alternative for individuals in a wheelchair to experience swinging.    The playground provides sensory experiences with sand, plants and sound.   Individuals who are hearing or sight impaired or those with autism can benefit greatly from the sensory centers.  Other equipment on the playground comes from BigToys.
New Orleans
The Stanley Ray playground— located in The New Orleans City Park on Dreyfous Avenue near the Peristyle.   The playground is a traditional wheel-chair accessible playground designed for children between two and five years old. The large playground consists of swings, slides, bridges, tunnels and other pieces to delight children.  The playground was built by the American Association of Orthopaedic Surgeons in partnership with KaBOOM! as part of their annual meeting.
Shreveport
Leaps and Bounds–resides within A.C. Steere Park, 4002 Grover Place.  The playground, which uses equipment from GameTime, is a project of Right to Play and is a Boundless Playground™.  NOTE: This may have a shredded rubber surface.