These are just a few examples of playgrounds in California.  For a complete list, please visit the Accessible Playground Directory.
Calabasas
Brandon's Village—resides in Gates Canyon Park, 25801 Thousand Oaks Blvd.  The Playground includes a sand area, a Sway Fun glider, adapted swings, a slide that has rollers to increase the sensory experience and tons of shade.  A portion of the play equipment is from Landscape Structures.  This is a Shane's Inspiration playground.  The playground consultant for this playground was RecWest Outdoor Products.
City of San Carlos
Burton Park–900 Chestnut Street.  Over 70% of the play area at Burton Park Playgrounds can accessed by all children regardless of physical ability.  A native plant landscaping is included in the play areas.  There is a sand area and a water area that is active in the Spring, Summer and Fall months.
City of Chula Vista
Eucalyptus–4th Avenue & C Street  The playground includes a Spiral Climber, Angled Cliff Hanger, and V-bounce.  The playground was built by American Association of Orthopaedic Surgeons as part of their annual meeting in partnership with KaBOOM!
City of Lake Forest
Pittsford Park–21701 Pittsford Drive facility has a rubberized surface, double-wide ramps, play equipment with music and water features and some fencing to help keep wayward children away from the street.
City of Pasadina
Reese's Retreat–Located within Brookside Park. Brookside Park is south of the Rose Bowl Stadium. The main entrance to Brookside Park is off Arroyo Blvd.  Beckoning with its pirate ship, Reese's Retreat comes complete with ramps, a cannonball climber, an eight-bay swing set and sensory play structures that invite children to play with water and sand.The play area was designed in partnership with the Pasadena Public Works Department, Accessibility and Disability Commission, Recreation and Parks Commission, Shane's Inspiration, Interplay Design, Recreation West Outdoor Products, and David Evans and Associates.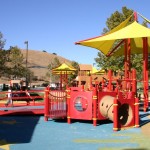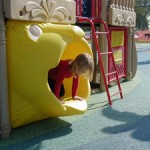 Chino
Prado Regional Park –16700 South Euclid Avenue   Toddlers can sail away in their sturdy and fully-accessible boat while school-age children discover the lost Water Island in the shade of swaying palm trees. The park has a Zero-Depth Water Play Zone. There is a sensory wall that is embedded with water creatures (turtles, fish, frogs) that splash, ribbit, and squirt; while combining a variety of textures, running water, and sound.  This is a Shane's Inspiration playground.
Concord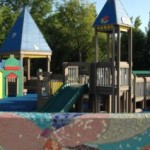 Matteo's Dream–Located in Hillcrest Park at 2050 Olivera Rd.  The playground, designed by Leathers and Associates, includes a long, curving ramp that leads to a wheelchair-accessible treehouse. There are textured slides for blind kids and metal slides for kids with cochlear ear implants. The ramps and pathways are wide enough for two wheelchairs to pass.
Costa Mesa
Angel's Place–located at TeWinkle Park, 885 Junipero Drive.   According to Fun Orange County Parks (see pictures of playground), it's amazingly well-maintained in a peaceful setting across from the Costa Mesa Tennis Center. The many lakes, waterfalls, and waterfowl provide for leisurely strolls and adventures for the kids.  The motor skills challenges set this park apart from others – there are pedestals to navigate, balance beams, platforms, standing pedal pushers, and tunnels.  Kids of all ages and abilities drawn to the moving sled/car/boat (whatever their imagination divines it to be) The park has a dedicated parking lot.  There is recycled rubber play surface and sand play area. There are nice, clean bathrooms very near playground (even a family restroom) with drinking fountains nearby. There are picnic areas and many benches many covered by shade.
Folsom
Folsom Park–located at 50 Natoma Street.  This play structure has a Wild West theme The play components are unique and fun. The playground includes play panels, ramps and poured-in-place safety surfacing. The playground equipment comes from Landscape Structures Inc and was built by Ross Recreation Equipment Company.
Playa Vista
Playa Vista Sports Park–Corner of Playa Vista Drive & Bluff Creek Drive.  The playground includes a Landscape Structures PlayBooster® playstructure, designed by Shane's Inspiration. Poured-in-place safety surfacing allows children using mobility devices to access every part of the playground, and an extensive ramping system brings them to the center of the playstructure. Additionally, developmentally-appropriate and sensory-stimulating activities are incorporated throughout the play space. The playground consultant for this playground was RecWest Outdoor Products.
Riverside
Fairmont Universal Playground–located at Fairmount Park, 2601 Fairmount Blvd.  This extraordinary playground has a carousel theme. The playground includes a tot lot for smaller children, an older children's play area with a mini climbing wall and slide, and drums to beat and bells to ring.  The Century Wall that has sounds and a panel on the floor so you can play music with your feet. This unique playground was made by Landscape Structures and Coast Recreation. The area has a splash fountain and a carousel for children. The park also includes handicap accessible rental paddle boats.
Roseville
Maidu Regional Park–1550 Maidu Drive.  This is Shane's Inspiration playground.
Mahany Regional Park–1545 Pleasant Grove BLVD. In addition to the extensive ramping system, a PlayBooster® playstructure offers unique play experiences with crawl tunnels, play panels, slides and talk tubes. The playground equipment comes from Landscape Structures and the Playground Consultant on the project was Ross Recreation Equipment Company. This is a  Shane's Inspiration Playground.
Sacramento
Southside Park–2115 6th Street near U Street.    The theme of the playground is "the solar system". Three distinct age appropriate play areas have been designed to include a rubber surfaced play area for infants under the age of 2, a tot lot for pre-school age children (2-5 year olds), and an adventure play area for school age children (5-12 year olds).  Such unique play elements in the play areas include an adventure play equipment with access ramps and handrails, a tot lot play equipment with access ramps and handrails, a merry-go-around, swings, spring riders, group rocking units, self propelled spin play units, independent climbing apparatuses and play units with sound features. Brightly colored protective rubber play surfacing in shapes of different planets also add to the space theme.  Security is provided by a 3-foot high decorative wall and ornamental metal fence that secures the west portion of the accessible playground by eliminating direct access from the playground to the adjacent street.  Other amenities in the accessible playground include an art sculpture, raised planters, therapeutic gardens with various textured and scented plants, picnic tables, benches, trash receptacles, a drinking fountain, bike racks, flowering shrubs and groundcovers.
San Clemente
Courtney's Sandcastle Universally Accessible Playground–will reside in the new La Pata/Vista Hermosa Community Park, located SW corner of the intersection of Avenida La Pata and Avenida Vista Hermosa. Some of the special features of the playground will be: A simulated castle, about 60 feet square, with gently sloping ramps leading to play stations. A simulated ship, for younger kids, with a stern wheel and talking tubes from the upper deck to the ground, slides and other features. A sensory garden, a sensory driven water feature, swings, a musical panel, producing a strum, a chime and other sounds, a globe with water bubbling gently over the edge and a 15-foot-long water wall, heavily textured so water will spill down the face, creating sound.
San Fransisco
St. Mary's Playground— Resides at St. Mary's Recreation Center,. The play area is located on the second terrace below the recreation center. Murray Street and Justin Drive  The playground has a series of fantasy-inspiring decks, bridges and slides, and incorporates features throughout the park that facilitate play for children with physical, developmental and emotional disabilities.A climbing wall, an "Apollo Whirl" spinning cable structure and a multicolored play surface with colors representing land, water and earth are also new to the playground.
Alvarado Elementary School–625 Douglass Street. The 10,274-square-foot playground features wheel-chair-accessible ramps, age-appropriate play structures for children 5 to 12 years old, and safety signs in Braille and Spanish. Several slides and imaginary play components were also included, along with climbing and balancing activities—including a play wall that simulates rock-climbing.  The playground was built by American Association of Orthopaedic Surgeons as part of their annual meeting in partnership with KaBOOM!
Balboa Park–Ocean & San Jose.  AAOS partnered with the Friends of Balboa Park and the Neighborhood Parks Department, KaBOOM! and received help from San Francisco's Recreation and Park Department as well as the City of San Francisco to build this playground as part of their annual meeting.  The largest piece of equipment boasts rock walls and climbing nets, two slides, a bridge, an alphabet board translated into sign language, and a wheelchair-accessible ramp. The new playground also has a swing set, a jungle gym with plastic letters on its side to help children learn their ABCs, and a mini yellow school bus.
San Mateo
Coyote Point Recreation Area--1961 Coyote Point Drive.  The park includes an accessible playground, accessible parking, restrooms A.D.A. accessible, drinking fountains A.D.A. accessible, 5 accessible drop in areas, 8 accessible reservation areas, and 2 accessible trails.  The accessible playground was built by the American Academy of Orthopaedic Surgeons as part of their annual meeting, in partnership with KaBOOM! In addition to wheelchair ramps, the playground features braille signs, a scent garden, a swing with a full-body harness and extra wide slides that can accommodate parents holding children.
Sisquoc
Benjamin Foxen Community Park–located at Benjamin Foxen School, 4949 Foxen Canyon Road.
Torrance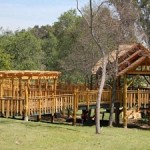 Charles H. Wilson Park–2200 Crenshaw Boulevard.  Home of an Universally Accessible Treehouse by The Treehouse Guys, formerly Forever Young Treehouses.
Yorba Linda
Box Canyon Park–Located at 22400 Foxtail. The new playground which replaced the one that burned down in 2008 features a pirate ship and a castle. The ship is for 2-5 year olds, and the castle is for 6-12 year olds. Both are ramped making it easily accessible for everyone. The playground includes many interactive panels including music chimes, drums, and gears to spin. There are 4 bench swings and 2 baby swings.