Ajax
Rotary Park—
located at 177 Lake Driveway West (at the mouth of Duffin's Creek). The Town of Ajax is fortunate to have a wonderful waterfront with 6 kilometers of unspoiled park land stretching across the Town's southern border along the shores of Lake Ontario. Rotary Park is a major focal point of the waterfront trail. The existing parkland includes fully accessible playground equipment for children 2-12+.  The equipment is from the Landscape Structures Inc and the playground consultant for the project was ABC Recreation.
Amherstburg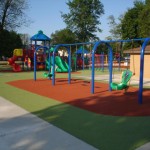 Rotary Inclusive Playground–located within Toddy Jones Park. 50 North St.  The park includes a splash pad and washrooms.
Guelph
Nick's Dragonfly–is located at the Southend Community Centre, 200 Clair Road. Themed as a pre-historic eco-park, this highly accessible playground features a younger child's play area with a play structure, swings and other ground level activities all on a full dinosaur themed rubber surface. The older children's play area features a ramped accessible structure with swings, a sand dig area featuring dinosaur bones buried in the sand and a sensory garden with sensory and tactile play experiences built into many of the play panel elements. The structure features a Sway Fun and thunderhead Climber and offering ramped access of a variety of deck levels.  The equipment is from the Landscape Structures Inc and the playground consultant for the project was ABC Recreation.
Owen Sound
Harrisson Park–75 2nd Avenue East.   Harrison Park is an urban dream, with more than 40 hectares of streams, trails, gardens, playgrounds, forest and green space, right in the heart of the city.   There are many amenities in the park including an accessible playground which includes: a multi-person duo swing set, net climber, spinning seats, large chimes and music panels, climbers and a multi-person seesaw.
Orangeville
EveryKids Park–is located in Harvey Curry Park located between Town Line and Lawrence Avenue.  This is a Boundless Playground. The junior area features such elements as the Braille Panel, Transfer Module and Dual Poly Slide for the younger child with special needs. The senior play structures has ramped access to over 80% of the available deck space with many sensory panel play options along the way, many using the Reach Panel and Balcony Deck combination. High colour contrast was used between support posts and component elements so those with visual challenges would recognize changes in elevation and play feature and "feel" their way around. The rubber surface also features tactile elements to increase the interest and a full array of swing opportunities also exists in belt, bucket, molded bucket and tire swing options covering all ages and abilities.  The park also  includes a splash pad.  The equipment is from the Landscape Structures Inc and the playground consultant for the project was ABC Recreation.
Pickering
Beachfront Park–Located on Liverpool Road.  Guided by a caring group of individuals at the City, along with input from the community, ABC Recreation and Landscape Structure Inc designed a one-of-a-kind play environment for this high-profile, signature park in the City of Pickering. In keeping with a nautical theme, several CoolToppers® Full Sails were utilized in this accessible design.
Port Hope
Zac's Dream–is located in Memorial Park on Queen Street. Since 2007 Zac Andrus a local teen, who has cerebral palsy and uses a wheelchair to get around, has been working continuously to create a fully-accessible playground in Memorial Park. The park has an accessible swing, monkey bars, braille and musical play pads, and the slides with deep edges for safety. The entire park will be accessible and have equipment mounted on a rubber surface.
The City of St. Catharines
Infinity Playplace –located on the Niagara Street Frontage at Lester B Pearson Park.  This completely "themed" playground was the brain-child of the Kiwanis Club of St. Catharines features three distinct themes covering a range of time periods over a range of ages. A historic train theme serving the toddler needs connects to a current day, nautical theme area catering to the younger ages while another connection brings the user to a futuristic spaceship theme with elements for the older ages. The equipment comes from Landscape Structures Inc and the playground consultant on the project was ABC Recreation.  The site also boasts a splash pad.  The splash pad is open June to September 9am to 8pm.
Strathroy
Alexandra Park–154 Caradoc Street North.
This park provides accessible,sensory stimulation and tactile play opportunities. The playground features a large inclusive structure for ages 5-12 (PlayBooster®), a smaller 18 month to 2 year unit (PlayShaper®). The playground is surrounded by a paved perimeter pathway. Additional features beyond the large structures include: Rider™, Chatter Noodle™ Set, Saddle Spinner, 4 Seat See Saw, Accessible Super Scoop, Wobble Pod™, Elevated Sand Table, Turtle Sand Table, Single Bobble Rider™, and Double Bobble accessory pieces. There is a swing area and a sand play area. The equipment was supplied by ABC Recreation and Landscape Structures Inc.
Sault Ste. Marie
Eric Nystedt Memorial Playground–located at Tarentorus Public School,  96 Northwood St.
Toronto
Sam Sivona playground–123 Sackville Street, located in the rear garden. North of Queen Street East, south of Shuter Street
Vaughan
Woodbridge Expansion District Park–100 Sunset Ridge (Islington Ave/Major Mackenzie)  The ship-themed playground includes a PlayBooster® playstructure that encourages social imaginative play among children of all abilities. A Dolphin and SeaHorse Whimsy Rider help expand the playground theme away from the main structure. Additionally, a CoolToppers® Single Post helps protect everyone from UV rays and poured-in-place safety surfacing provides accessibility for all. The equipment was supplied by ABC Recreation and Landscape Structures Inc.
Woodstock
South Side Park–Located at the end of Wellington St. South.  This inclusive playground design features a junior structure, senior structure, sand play area, swing area and a host of individual climbing and riding elements. It is surrounded by an asphalt pathway that extends to accessible and ample parking at two ends of the playground. The playground also includes a Sway Fun glider, Roller Slide, integrated Climbing Net, independent Mobius Climber and a multitude of swing options. Multiple ramped entrances lead the users through an array of sensory and tactile play experiences with ample options for return to perimeter path. Overhead and upper body challenges are available throughout both the junior and senior units and promote challenge among peers of varying abilities as well as graduation from junior to senior experiences.  The equipment was supplied by ABC Recreation and Landscape Structures Inc.
Ottawa
Clifford Bowey Public School Playground – located at 1300 Kitchener Avenue, behind Clifford Bowey Public School and the Deborah Anne Kirwan City Pool.  The playground features a rubberized play surface, accessible playstructures with ramps and transfer stations, a raft swing, a swaying boat, a spinning cup, a variety of activity panels, and a communication board.  A perimeter fence provides additional safety.  The playground is open to the public outside of school hours.