For a full listing of British Columbia playgrounds, please visit our Accessible Playground Directory.
City of Courtenay
Rotary Skypark Accessible Playground–on Mansfield Drive, right beside the scenic Courtenay Riverway.  The park equipment includes a rotating net, arch swing, wheelchair accessible merry-go-round, see-saw, diggers and spinners. Due to its location just south of the Courtenay Airpark, the Rotary Skypark has an airplane theme, with an airplane climber, and a gazebo that kids can pretend is their very own air-traffic control tower.
City of Williams Lake
Kiwanis Park–100-198 Fourth Ave N, Located in the heart of downtown and adjacent to the Cariboo Memorial Recreation Complex, the park contains a Little League ball field, tennis courts, a state of the art spray park, swings, slides, adventure play structure, washroom, picnic facilities and gazebo.  They are using Canada stimulus funding to replace the swings and install a new multi-station accessible play structure to join the existing swing/glider in the playground.
Cranbrook
Pre-school playground–located outside of the Rec Plex, 1777 2nd Street North.  This playground was built by volunteers from Terasen Gas as part of their annual Community Giving Day.  The new playground is aimed at children six and under and is accessible to all young ones regardless of any disability they may have. It features a special, safe sponge surface and a variety of playground equipment including swings, slides, climbing structures and special toys like a giant toy turtle for the kids' entertainment.
Cedar Grove Elementary School--1196 Chaster Road.  Opened September 30, 2009.  The structures and independent play areas, designed by Habitat Systems Inc. and Landscape Structures, have many options for ground level play that are accessible, inclusive and FUN! Ground level play as opposed to ramp access.  The accessible components were chosen by parents with physically challenged children and the therapists working with them. Path placement and other elements of the design were planned in order to facilitate a flow of inclusive play and social interaction.  The playground features:  touch panels, wind chimes, balance beam, spring and balance apparatus, toddler structure with swings, adapted swings,  a First Nations Medicine Wheel, basketball court, shaded accessible picnic areas, and benches.  The First Nations Medicine Wheel used in First Nations culture as a symbol of the life, health and values of an individual, community or Nation.
Delta
Lions Playground For Children of All Abilities–located at Centennial Beach – Boundary Bay Regional Park, 12th Ave and Boundary Bay Rd. ThisLandscape Structures Inc playground includes a PlayBooster® playstructure which provides lots of fun for kids ages 5 to 12. There is a TurboTiwster™ Tunnel Slide, Summit Climber™, and Corkscrew Climber. Plus a PlayOdyssey® Roof provides shade from harmful UV rays.  A portion of the playground has been surfaced with Playground Grass.   Watch a video of the playground under construction.  The playground was designed and built by Habitat Systems Inc.
Langley
Douglas Park–20550 Douglas Crescent
Malaview Gibsons
Cedar Grove–The PlayBooster® playstructure at Cedar Grove is a completely inclusive playground design. With many sensory-focused play components, children with autism or other sensory processing disorders get the experiences they want. And this equipment is great for typically-developing children as well. The playground equipment come from Landscape Structuresand was built by Habitat Systems Inc.
North Saanich

Panorama Recreation Centre–1885 Forest Park Dr. This is an accessible Landscape Structures Inc PlayBooster® playstructure. An extensive ramping system bring children of all abilities to the center of the playground action. A Sway Fun™ glider provides a unique play experience for children, Reach Play Panels offer lots of fun games, and overhead events, crawl tunnels, slides and more keep all children engaged while they play for hours.  The playground consultant on this project was Habitat Systems.
Prince Rupert
Pineridge Elementary–1700 Sloan Ave  The playground consultant on this project was Habitat Systems, with equipment from Landscape Structures.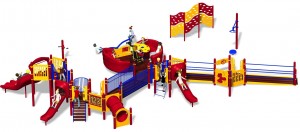 Richmond
Middle Arm Waterfront Greenway, close to the Olympic Oval–one of three playgrounds built in honor of the 2010 winter Olympics. Shane's Inspiration and Cre8play worked together on an innovative playground. The playground is designed to look like a real sized Tug Boat. It includes 2 slides, an observation deck, a control room, a log ADA transfer station, interactive sounds, a bell to ring and it is all accessible by a wide ramp.  See pictures and try the sounds at the feature posting of this playground.
Surrey
Bayridge Elementary School–1730 – 142nd Street, Sporting a pour-in-place, shredded-tire surface – unique to the school district – the $70,000 playground includes a saucer swing and climbing apparatus.  Watch Video
Holly Elementary School–10719 150th Street
Redwood Park–17900 – 20 Avenue.  In addition to the new inclusive playground, the Park includes Tree House, Arboretum, Picnic Areas with Shelters, and Natural Area Trail.    As the first fully accessible playground in the South Surrey area, the layout was developed to accommodate the mature trees in the area and work with the natural flow of the land.The area consists of numerous "play pods," which are mini playgrounds that provide different types of play. Several elevated and at-grade play structures are also offered to promote inclusion and creative play.   NOTE: Surface materials used include recycled B.C. rubber, engineered wood fibre and washed river sand
Trial
Glenmerry Elementary–3660 Carnation Drive.  Glenmerry aimed for a playground that would raise the bar on physical activity and speak to a child by touching on all senses – from looking through a periscope to playing on a xylophone or watching a friend swing across the monkey bars. The playground includes a wheelchair circuit, but a roller slide, overhead spinners, zip line, step bridge and more. Supported by a soft synthetic lawn, the playground is 4,600-square-foot. The playground equipment is from Landscape Structures.
Vancouver
China Creek Park South–1255 E 10th Avenue.  The playground has an Evos™ playsystem. The spherical design attracts all children to play, and the unique climbing cables, curved arches and Wobble Pod™ bouncers welcome everyone regardless of ability. The playground equipment come from Landscape Structuresand was built by Habitat Systems Inc.
Kitsilano Beach Park–1499 Arbutus Street (@ Cornwall Avenue)  This is the city's largest fully accessible playground. It is one of three showcase inclusive playgrounds built in honor of 2010 Winter Games host communities of Vancouver, Whistler and Richmond. The playground features an accessible sand play table, rotating climber and saucer swings. Read more about this playground.
The playground in located in a very popular park which boasts clean sand beaches, beautiful views of English Bay and downtown Vancouver, the fantastic Boathouse restaurant, and wise lawns perfect for throwing a Frisbee or relaxing in the sun. The sparkling salt waters of the heated outdoor pool are especially inviting, and the pool has the distinction of being Canada's longest at 137m.
Victoria
Victor School–2260 Victor St. The sprawling PlayBooster® playstructure includes many crawl tunnels, accessible from ground level, as well as slides, climbers, play panels and the Sway Fun® glider. The playground equipment come from Landscape Structures and was built by Habitat Systems Inc.
West Sechelt
Picadilly Park–6345 Jasper Rd  The playground includes: a multi-play station, twister slide, a bubble viewer, climber, accessible swing set, a maze wheel and a talking tube.
Whistler
Whistler Resort–One of the three accessible playgrounds built in honor of the 2010 Winter Olympic Games. This one is located at Celebration Plaza.  Themed "Nature Play, Play with Nature," the new playground touches on Whistler's resort history, outdoor recreation culture and 2010 Winter Games competition environments. The inclusive playground features a wooden play house for children aged up to six years old, and a tree house play structure for those aged seven to 12 years old. Both have weather protection to offer 12 months of safe and sheltered play.
Key design features of the Whistler accessible playground include a multi-sensory wall, which takes its inspiration from the skyline of the Whistler and Blackcomb Mountains, and a large, accessible tree house inspired by the region's forests. Other elements include a rope climber similar to the existing rope climber, swings, slide, rubberized surfacing and other equipment. Seating integrated into the design allows parents and kids to sit comfortably, gaze at the mountain views and take it all in.