Lately, there has been a whole bunch of interesting fundraising projects happening around the country.  Grab a great new idea and share with us what you have been doing to raise funds.
In the Chicago Area, the Lincolnshire Special Recreation Area help a jumpfest.  They sent up 7 inflatables and kids paid a $10 fee to jump for as long as they wanted.  If you want information on how they did it email http: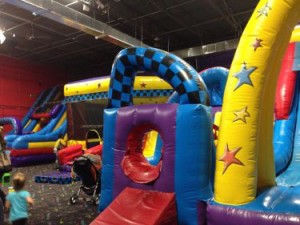 //www.partyhoppersfun.com or call (815) 603-4377. For more information about the Lincolnway Special Recreation Association, call (815) 320-3500 or visit http://www.lwsra.org.
Speaking of jumping, Carly's Clubhouse in Alabama, held a special Valentine's Day Parent's Night Out. Parents could drop their children off at Pump It Up.  The kids got to play in the inflatable area, watch a movie and play games, eat donated pizza and there was plenty of Pump It up employees supervising the event.  It cost $25 per child.
Carly's Clubhouse also held a concert called "A night of legends".  Elvis, Patsy Cline, Aretha Franklin impersonators took the stage for the evening.  There was children's activities, a cash bar, and a great raffle. The concert was free but donations were collected and they raised $10,000.  For more information, visit http://www.carlysclubhouse.org/
A group in Teaneck, NJ are raising money for an accessible sprayground, was the reciepent of the funds raised by the  Teaneck Women's Soccer League's annual charity soccer game.  They also have put donation boxes in local stores and have plans for a spring Zumba fundraiser.  For more information, email makeasplash@thegigfoundation.org or visit facebook.com/masteaneck.
Clifford Bowey Public School in Ottawa has rallied the community in a variety of ways to support their new playground.  They won a contest with the highest number of votes.  They also had a swim-a-thon and a community dinner with a silent auction. To learn more, visit boweyfoundation.org. To view Lambert-Tocchi's video taken the day the school learned it won the Aviva Community Fund prize, visit youtu.be/dzIMYNcuLCg.