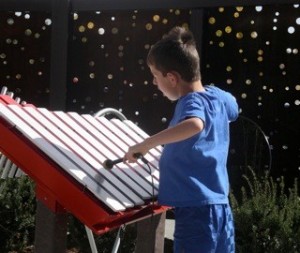 Enhancing physical and mental development through the exploration of sound, Freenotes outdoor musical instruments are accessible to kids with physical and developmental disabilities. Only the simplest motor skills are needed to activate pure harmonies, ensuring musical success for all players.
Surprisingly delightful, these interactive outdoor musical instruments challenge the imagination by stimulating creativity.  Freenotes Harmony Park offers a musical experience for all through a specially designed ensemble of percussion instruments.  Doubling as public art sculptures all instruments play together and any combination of notes are pleasing. No matter one's developmental level, Freenotes instruments make it possible for everyone to create beautiful music.
In 2010 Freenotes Harmony Park worked with the Parker Arts and Cultural Events Center (PACE) in Parker, Colorado  to install eight instruments in a public courtyard outside the building.  The PACE Center demonstrates the Town of Parker's commitment to public art.  It was built to increase cultural offerings, create a community-gathering place and enhance the downtown area.  Freenotes was in fact, the first to be approved by the "Art in Public Places Committee".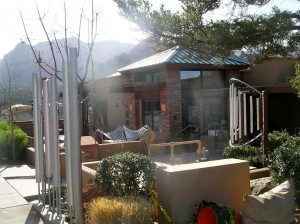 The City of Sedona, Arizona also launched a public art initiative to rival Santa Fe in 2011. "Music Lives Here" is an inscription chiseled into the sandstone rock next to a brand new grouping of Harmony Park instruments. A bold installation by the city of Sedona these outdoor instruments are permanently placed on Main Street at the Chamber of Commerce Visitors Center.
Sedona Mayor Rob Adams made a special visit to play the first notes and to show his appreciation. "This is an amazing thing you are doing for our community. Freenotes instruments are a wonderful contribution to our efforts to become a city animated by the arts."
Freenotes have found their way into installations around the world. In December of 2013 Freenotes opened as an exhibit illustrating the physics and mathematics of sound at the entrance of the Ross Perot Science Museum, Dallas, Texas.
The benefits of Freenotes Harmony Park instruments are manifold. They invite participation from individuals as well as groups to explore, learn and create.  Playing music transcends all boundaries of age, ethnicity, gender and physicality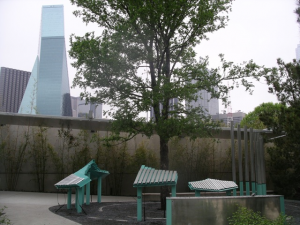 helping to build stronger communities.