The Greater Kansas City YMCA provides everything a child with disabilities needs to get moving.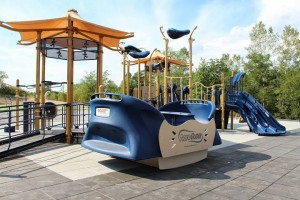 The  Fred and Shirley Pryor YMCA Challenger Sports Complex  provides athletic fields without barriers. The Fred and Shirley Pryor YMCA Challenger Sports Complex is designed for young athletes with physical, developmental and intellectual disabilities, and includes the only all-accessible fields in the Kansas City area.
The complex consists of the Mark Teahen Challenger Baseball Field, the Trent Green Family Field, American Family Insurance Field and an accessible playground. The first phase opened in fall 2010 and the Trent Green Family Field and accessible playground debuted in the fall of 2013.
Facilities at the complex offer a number of accommodations for wheelchairs, walkers and those unsteady on their feet including:
A synthetic rubber surface with flat bases on the baseball field for wheelchairs and other mobility devices.
A dugout with no stairs or curbs.
Synthetic grass turf for soccer and flag football offering a level, flat surface.
A playground with ramps, accessible equipment, gliders, pods specially designed to appeal to children on the autism spectrum, a smooth rubber surface and other accessible features.
A fully accessible parking lot with no curbs going into the complex.
Fully accessible restrooms.
See pictures of the dedication and grand opening of the playground.