Reading, Pennsylvania has a new feature that is providing more kids with more opportunities to do what they do best – be a kid! IM ABLE Foundation, Opportunity House, Gilmore – Henne Community Fund and Berks Youth in Action came together to provide recreation for children with and without disabilities – all in one place.
Located at the Opportunity House, the new  adaptive playground in Reading is available to children throughout the county.
Chris Kaag, Founder and Executive Director of IM ABLE Foundation led the fundraising efforts to move the playground forward. The U.S. Marine and wheelchair user is an avid outdoorsman who enjoys mountain biking, skiing, and kayaking. He wants to change how people perceive people with disabilities and encourage people, including kids with disabilities to push themselves beyond their pre-conceived limitations and discover more possibilities for living well.
"I don't want kids to think that just because they have a disability that they have to sit around and do nothing," said Kaag.
Kaag was successful in his fundraising efforts.  Jacksonville Jaguars quarterback Chad Henne, who co-founded the Gilmore/Henne Community Fund along with  fellow NFL player and former Wilson High School star John Gilmore helped to support the new endeavor.  The two local football players joined in with the hundreds of volunteers who built the playground.
Berks Youth in Action (BYIA), a group of high school students from three local schools raised $65,000 for the playground through special events like dances and corporate sponsorships. "We got involved when we approached IM ABLE and decided to partner with them. Never did we think we'd be so successful and able to build such an amazing playground," says Betsy Finneran, a BYIA coordinator.  Read more..
"This playground is a unique opportunity for children of all abilities to come and play together as equals," said Kaag. "We have about 10 to 15 pieces of equipment that accommodate individuals with physical and sensory disabilities. Through some research, we found that the city of Reading has a good portion of kids with autism, so we kept that in mind during the design of the playground too."
Some of the equipment at the new playground includes, but is not limited to:
An Omni Spinner, which features spinning action with easy access and a secure ride for children of all abilities. It offers vestibular sensory stimulation (sense of balance) and social interactive play.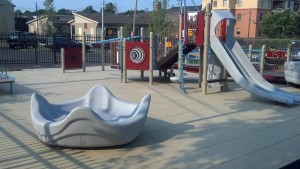 There is also a Sensory Play Roller Table™ which provides kids much needed sensory stimulation, through the application of deep-muscle pressure, from the steel rollers.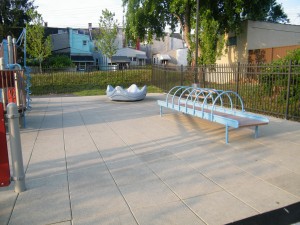 The Sway Fun holds 8 people, including two children who use wheelchairs.  It features rocking and gliding action.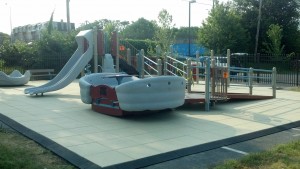 The Rain Wheel offers soothing sounds of rain, a visual appeal, and can assist with dexterity.  The Rain Sound Wheel and Color Wheel which allows children to work on their dexterity while also providing an opportunity for hearing and visual input.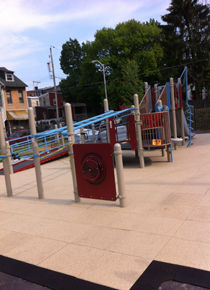 Additionally, the playground is surfaced with a rubber that is a safety feature, as it helps cushion falls and stumbles and reduces the chance of serious injury.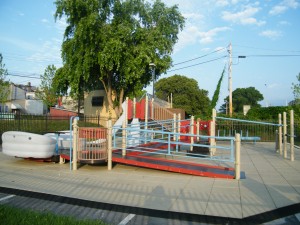 "I think this playground helps show kids with a disability what is actually available to them," says Kaag.
The equipment is from Landscape Structures.  The project design and installation was overseen by General Recreation.  You can read more about the project in General Recreation's newsletter.