Discovering that your child has a vision problem can be scary and overwhelming.  The BEGIN program at the Center for Visual Impairment in Altanta, Georgia helps parents allay their fears, and provides guidance and encouragement. They have specialized classes, training, information and support to help children reach their full potential. One of the tools they use to help children with mobility and independence is their playground.
One important aspect of being on the playground is teaching these children how to interact with other children. Blind or visually impaired children do not have the advantage of learning about movement and ways to use playground equipment by watching other children. What sighted kids assimilate, without even thinking about it, the BEGIN children must be guided in learning these basic skills that other kids take for granted.
On a plot of ground measuring approximately 100 by 30 feet is a custom-designed EcoPlay by Safe Play structure with two slides, a climbing wall, a custom music panel touch-activated and powered by a small solar panel, two see-saws. a "teaching" playhouse, a large rock structure, all types of wind chimes in various quadrants of the play area and a Sensory Garden.
Each item in the playground was placed with great intentionality.  The wind chimes are placed to enable children to form a mental picture of the layout of the playground.  The play panels also help children identify where they are in the space. The Sensory Garden put in the Atlanta Botanical Garden adds texture and smell to the children's play.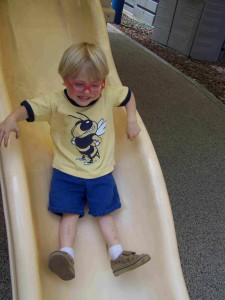 "Falling" down a slide is quite frightening for children who cannot see where they are headed or what awaits them at the end. With guidance, the children experience the slide. Upon safely arriving at the bottom (a number of times) the fun of sliding is learned. This provides motivation to tackle stairs which can be a very difficult skill for a child with visual impairments to learn.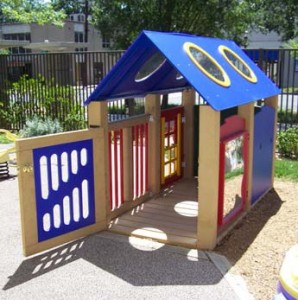 The playhouse has a real doorknob, latch and even a functional window, elements that would be deemed "unsafe" in a standard playground. Here children can learn what these things are and how they work.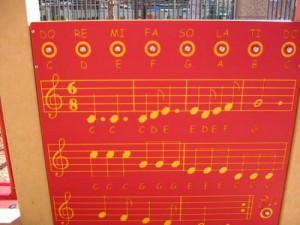 The above music panel is solar paneled to enable the children to create music by pushing the buttons.
Here is a slide show of other aspects of this playground: