The Wisbech Adventure Playground is  located on Waterlees Road in Cambridgeshire, UK.
There is always loads to do at this exciting Adventure Playground: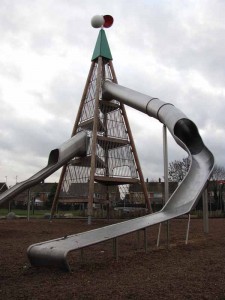 A huge tower with two slides
A big sandpit and water area
Lots of different swings
Chillout area
Sports and games
Den building
Arts and crafts
Fire Pit Activities
Double zip wire
Here is a video that shows the playground in action and explains more about it.
I asked the Designer, Patrick Martin of Sutcliffe Play to tell me more about the thought process that went into ensuring that the playground is inclusive.  Here is his answer:
"The playground was developed with the client (Playwork team manager), local kids and consultation with Aiming High, the special school in the area.
I designed the largest range of experiences possible with the concept of adventure play in mind. The traditional 'build everything yourself' philosophy was not practical for the whole area (for the client, skill level of the staff to build at this scale). We developed a self build system which uses a bare frame onto which ropes, nets fabric floors, sides and roofs can be attached. Children can build and re build quickly, using Velcro and karabiners.
I specifically included sand and water as transformative materials that can be re invented every day.
With regard to single items and structures, these were chosen to create a variety of experiences (dynamic, social/ shared, extreme height, exhilaration etc).
Some old favourites like dutch discs, group swings, cableways and ravine swings are classic adventure playground items.
Access for disabled users, particularly across playful surfaces like sand is facilitated by jetties and areas where the surrounding area 'ramps' into the sand. Bark surfaces also have ramp entrances too. We have used all terrain buggies which are stored on site to enable all users to access the equipment on loose fill."
Other items such as a wheelchair accessible roundabout the double cableway (with harness), the waterplay, performance area, revolving dishes and the some of the playful pathways are all accessed with a hard/ wetpour surface. I felt a range of natural surfaces as the predominant palette were best. When grass is used as grass mat is installed to prevent sinking in wet weather (and to save the grass from wear)
The play barges are both fully accessible, one being a play/craft/ cooking room and the other with toilets (including disable ones of course) and a wet room for showering if required."
What are your thoughts about the inclusivity of this playground?