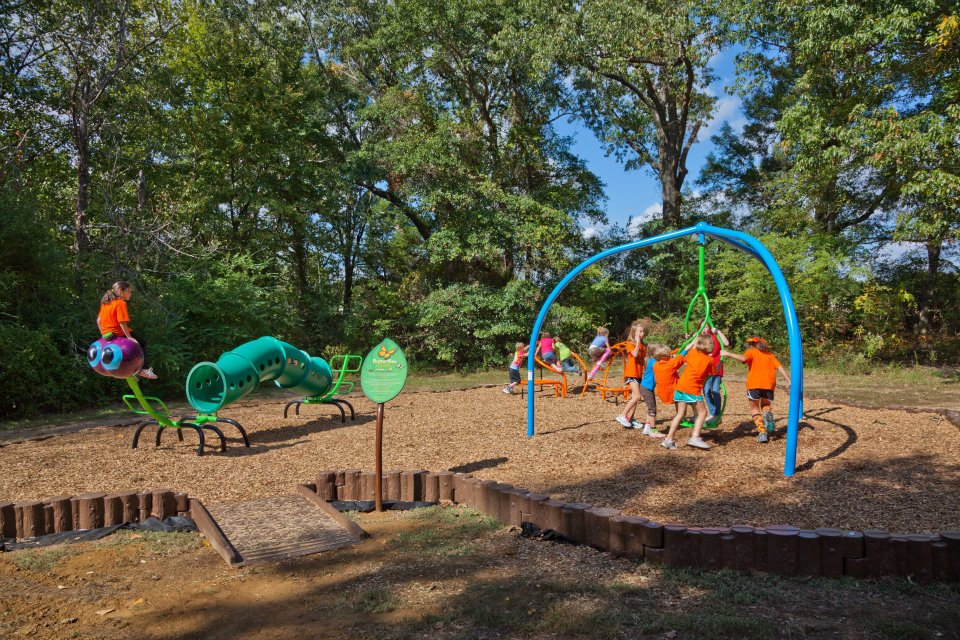 PART VII: How to use purchased equipment to bring nature into inclusive playgrounds
GameTime has chosen to take a different approach to introducing children to nature than the last two manufacturers we featured Landscape Structures and Playworld Systems in this series.  GameTime has developed a product line called Play Trails.
Play Trails links pockets of play elements in a linear play pattern along or within a trail system. Each "Play Pocket" is themed with either flora inspired elements like leaves, trees, mushrooms and flowers or fauna "critters" like dragonflies, frogs, turtles, spiders, bees, and ants.
The result is the combination of parent/child interaction on the play elements and between the play pockets. Both children and adults benefit from this vigorous playful exercise, while enjoying the beauty of the natural outdoor environment along the trail.
Play Trails Activities are grouped in Play Pockets along the trail, and each Play Pocket features a sign that teaches fun facts about the subject's contributions to nature. Learn about the metamorphosis of a butterfly while climbing on his wings or spinning in a chrysalis. Discover the many ways a spider uses its silk, then climb into a larger than life web of your own.
In order to make these Play Trails accessible, the designer would need to look at each Play Pocket along the way and determine how it can be easily accessed for children using mobility devises. The surfacing and connecting paths will be most important discussion point.  The planning group would also need to examine the combination of products that go in each Play Pocket to see how inclusive they are.  Finally, the trail itself would need to be one that allows strollers and wheelchairs roll easily along with some barriers to keep "runners" from disappearing along the path.  Play Trails is a great concept–it will just take a little more work for the playground planning team to ensure its inclusiveness.
Below are are few of the different products that go into each Play Pocket.  They are very creative and it is easy to see how once you convinced the children to move on from that Pocket how the conversation about nature would naturally occur.
[pb_slides group="15″]
You can see the rest of the Play Pockets, including the Ant Play Pocket, the Bird Play Pocket, the Bee Play Pocket, and Forest Play Pocket as read more about this interesting concept at GameTime's Play Trails site.  You may also download a virtual catalog.