PART VI: How to use purchased equipment to bring nature into inclusive playgrounds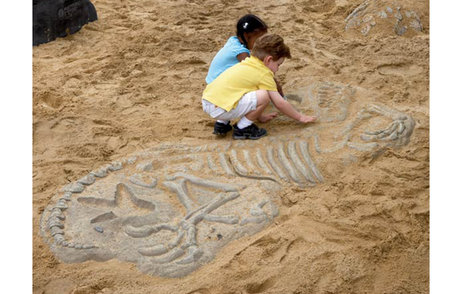 Origins by Playworld Systems is a  new holistic design approach encourages children to reconnect with nature through traditional and non-traditional play.  Studies show that playtime in natural playgrounds stimulates all aspects of childhood development, from coordination and balance to problem-solving skills. By blurring the line between nature and a structured play environment, an Origins natural playground gives children the joy of exploring and self-discovery in a safe place.
Origins has a wide variety of traditional and non-traditional play activities that reconnect children to nature, including:
GardenScapes™ – Gardening-based play activities that create teachable moments about plants and the planet.  GardenScapes uses GardenSoxx as soon on a previous post in this series.
Boulders and Rope Climbers – The lifelike climbing experience that looks and feels just like real rock.
T-Rex and Diggables – A lifelike, pre-historic pretend play experience for toddlers and kids.
The Origins line gives children the opportunity for physical play and sensory play.  There are many different tactile experience, including water play with Boulder Creek.    See all of the interesting pieces in this short video.