PART IV: How to use purchased equipment to bring nature into inclusive playgrounds
The Natural Playgrounds Company® is a  design firm specializing in natural play environments and natural playscapes for child care centers, schools, and communities.  They combine skills in architectural design, land planning, construction, landscaping, environmental art, child education, and environmental protection to bring to bring the community  innovative, natural designs. After designing playgrounds for about 8 years they realized  that the only way our designs would be accurately and affordably realized was to start a construction arm, so in 2008 they formed the Natural Playgrounds Construction Company.
The Natural Playgrounds Construction Company makes or finds for you a wide variety of items that are often found in natural ;layscapes.  The categories of their products include:
Here are a few examples of the products they offer: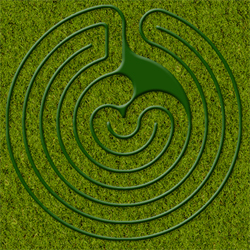 If you are interested in adding a Labyrinth to your playground, Natural Playgrounds has different size templates you can use.  First you need to create a flat base. They provide directions to tell you how to do that. Then all you do is lay out the full-sized template, lay the brick on top following the printed pattern, and fill in between the bricks with path material. The template is biodegradable, and gets absorbed into the soil (out of your sight) after a short period.  This can a be a great service project for a group of teens and creates a beautiful place for children with ADHD as way as children with other attention disorders to explore nature and then head back to a classroom ready to concentrate.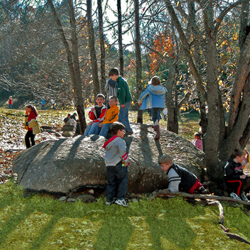 Boulders and rocks are a great addition to any playground.  However, it is not always easy depending on your location to find appropriate materials.  Many playground manufacturers now create boulders which can be a perfect alternative to the real thing.  But if you want to the real deal, Natural Playgrounds has figured out a way to get them for you.  Because they believe that real boulders are a critical necessity in a learning playground, they developed a boulder acquisition network that looks for boulders nearest to you so you can save on environmental and shipping costs. Keep in mind that boulders they find for you may be different colors and different shapes, but we make sure that they do NOT have sharp edges so children won't get hurt.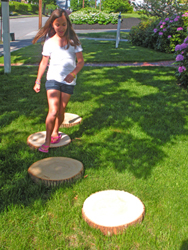 Tree Cookies, sometimes referred to as tree disks, are a fun, natural element for both imaginative free play and for learning. They can be stacked, used for creating paths or patios, rolled, or used as loose parts.
The Tree Cookies are slices of REAL northern hardwood trees cut from a sustainable forest on a 600 acre farm in New Hampshire. The tree cookies clearly show varying sized growth rings (a history of weather and soil conditions), the formation of branches, bark layers, and other features related to the composition of one of nature's most beautiful creations.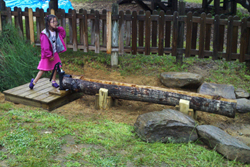 Playing in water is fun for everyone!  It is also a great way to learn science concepts.  When water flows down a sluiceway (such as the one above), they love to put things in its path, or watch items float down with the movement of the water. Natural Playground's sluiceway is made of one six foot (6′) long log. If you purchase more than one sluiceway, they can be offset vertically to create a slight waterfall which gives the entire water play area a lot more character. Shown above is a three log sluiceway made of real logs, but we also make sluiceways out of kid friendly treated lumber so that the sluices are wider and offer more play opportunities.
You will find many more great ideas on the Natural Playgrounds website, which is very informative about the development and benefits of nature playscapes.