PART II: How to use purchased equipment to bring nature into inclusive playgrounds
Adventurous Child has always been one my favorite playground companies.  Catering specifically to children six months to six years of age, they have created a wonderful line of products that are perfect for toddlers and preschoolers.  They have developed a series of products that help teach about nature and science in a very hands-on way.  They have also created physical fitness pieces out of nature products.
Their mission truly sums up their work, "The Adventurous Child creates outdoor learning environments and products that promote developmental milestones for children six months to six years through the evidence based principles of play." 
Their Facebook Page and their Blog  are great resources on early education and play, nature, and science.  The explanation of the products comes from their website.  The picture below shows the Adventurous Child Team with some of my favorite pieces.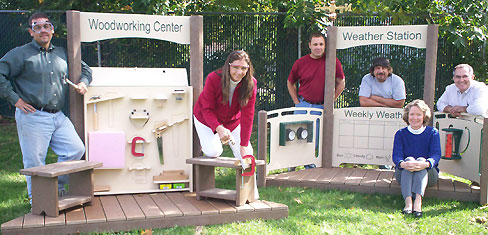 Another wonderful thing about Adventurous Child's website is that it explains what children are learning by playing on the different products.  They also link the products to Early Childhood Learning Standards.  They offer many more products than are included here. I encourage you to go to their site and explore.
[pb_slides group="12″]