Musical fence launched at local school – ABC Alice Springs – Australian Broadcasting Corporation
An artist in Australia has designed the first musical fence for a elementary school.  She was interviewed on ABC-Alice Spring.  Listen to her interview and hear how wonderful it sounds.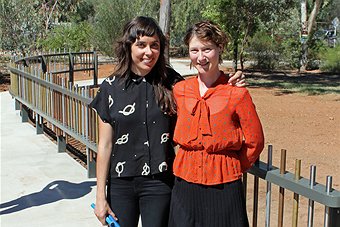 Ross Park Primary School is the proud owner of a world first – a fence that actually plays music.
Brainchild of local designer Elliat Rich and percussionist Bree van Reyk, the 'Melody Fence' is all about interaction.
"You know how kids used to run their sticks along the fence?" says Elliat.
"It used to go tat, tat, tat…with this particular fence each 'tat' is a different note."
A year and a half in the making, the fence is around 15 metres long and made from aluminium, stainless steel, copper and brass.
Ross Park Assistant Principal, Lizzy Verstarpin, says the school is going to a lot more musical from now on.
"I hope [the children] use it constantly coming in and out of school," she says.
"I can imagine that we're going to hear lots of wonderful sounds!"