All kids love being enveloped in the pod-like Cozy Cocoon, from Playworld Systems.   It will have special appeal for childre with autism spectrum disorders and/or sensory processing disorder. The Cozy Cocoon provides a safe escape when a child gets over-stimulated . The enclosed space allows a child to escape the hubbub of the playground. They are still in the midst of the activity–just in a place that is a little quieter.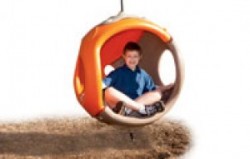 The designer addressed many issues that are often a concern of enclosed spaces.  1) Interior textures & molded-in features for tactile exploration. 2) Windows on both sides for adult visibility. 3 )Helpful grips provide easier entrance/exits for child.  4) It is quite possible for an adult to get in with their child to provide some deep touch or a cuddle.
One of the nice things about the Cozy Cocoon is that you can mount it in many different ways.  The motion it provides will depend on how you mount it.  Therefore, if you purchase this product, you are will want to have a conversation with your planning committee, as well as any autism and/or sensory processing disorder advocates to determine what is the best movement for the members of your community as well as your playground design.  Or you could purchase more than one and mount each differently to provide choice on the playground.
1.  You can attach it to the module playstructure.  With this mounting, the Cocoon will spin, sway and rock.  The person using it will be right in the action, but in a quieter and comfortable place.
2.  You can attach it to a single post.  You will get the same movement as number 1, but can separate the cocoon from the direct action.
3. You can attach it to a short post and allow it to revolve.  The person using the Cocoon will be able to experience 360 degree slow revolve.
4.  Finally, you can attach it to a short post and keep it still.  This will provide a quiet, still, zen-like mediation place for a child who likes no motion.
Let Kids Play provided some early input into the design concept and are thrilled that this product is now available in its multiple forms.