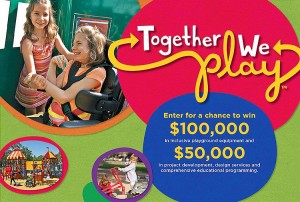 Landscape Structures Inc., the nation's leading designer and manufacturer of commercial play equipment, announced today that it

has partnered with Shane's Inspiration, the only nonprofit organization specializing in the design and educational programming of inclusive playgrounds, to sponsor the Together We Play™ essay contest. A grand prize of $100,000 in inclusive playground equipment, along with $50,000 of project development, design and educational programming services will be awarded to a community in North America.
Five regional winners will be selected, each of which will receive $10,000 in inclusive playground equipment from Landscape Structures along with inclusive playground design, project development and educational programming services valued at $50,000 from Shane's Inspiration. The contest is open to representatives of U.S. and Canadian government entities (excluding Quebec), including parks and recreation agencies, schools and qualified 501(c) (3) organizations.
Qualified contestants may enter the contest by completing an online entry form and submitting an original essay that describes how their communities would benefit from a Landscape Structures and Shane's Inspiration inclusive playground. The contest begins April 4, 2011, and closes Aug. 1, 2011.  To find complete contest rules and an official entry form, go here.
"We have learned that the creation of a beautiful, inclusive playground often begins with the dreams and energy of just one person," says Tiffany Harris, cofounder and CEO of Shane's Inspiration. "So we are hopeful that this contest will be the spark that ignites those dreams. Inclusive playgrounds have the power to transform families and communities, and we invite anyone who has seen a need for inclusive play in their parks or schools to submit their contest entry."
According to Pat Faust, president of Landscape Structures, the contest is a celebration of the 10 years that Landscape Structures and Shane's Inspiration have worked together on inclusive playgrounds. "We dedicate this contest to the thousands of families, teachers, recreation professionals and therapists who share our belief that playgrounds should serve all children," says Faust. "For the past 10 years, Landscape Structures and Shane's Inspiration have worked tirelessly to design and install playgrounds that achieve the highest levels of inclusive play, and to provide educational programming that promotes understanding of the unique abilities of each and every child. It has been an honor to partner with Shane's Inspiration on the creation of more than 30 spectacular playgrounds in the Western U.S., and we are now eager to help bring inclusive play to communities throughout the U.S. and Canada."