LEWISBURG, PA (March 8, 2011) – Playworld Systems®, a leading manufacturer of imaginative play and fitness equipment, today announced the launch of Origins™, play elements and site amenities that seamlessly blend active outdoor play with nature in an unprecedented way. With Origins, children's imaginations can soar while they safely explore and interact with the natural environment.
"Origins was designed to help create a play area that is filled with challenging activities but at the same time feels natural and engaging for children and families alike," said Ian Proud, research manager at Playworld Systems. "Multi-sensory components such as water features, hillside slides, climbable boulders and plant elements bring nature into the playground in an experiential and tangible way." Studies show that the more time five-year-olds spent outdoors, the greater their social behavior and motor skills they exhibited. Playing in a natural setting stimulates all aspects of childhood development, from coordination and balance to problem-solving.
Origins are a wonderful edition to Playworld Systems' accessible play equipment line.  The multi-sensory experience of nature, water, hillside slides, and textured boulders will strongly engage children with disabilities.
Highlights of Origins include: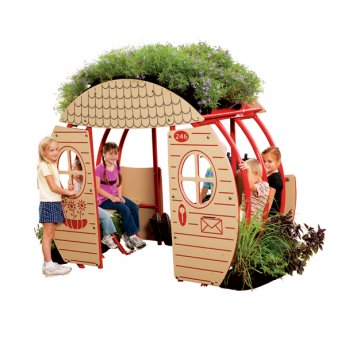 • Origins GardenScapes™: Naturally inspired elements create immersive learning opportunities about plants and the planet throughout the playspace. Many of the GardenScapes components incorporate GardenSoxx®, specially designed mesh "socks" that keep compost and plants neatly and easily contained. Unique in the industry, Garden Gates provide verdant arched entryways to the playspace, park or garden. Children can retreat to the Garden House to socialize and pretend while learning about horticulture and caring for a garden. Garden Arches, Arches, Beds and Benches are also part of the line. The Garden Beds will be enjoyed by people who can no longer bend down to garden as they were once able to do.
• Origins Boulders: Origins Boulders help kids build essential coordination, balance, and agility skills. Made with patented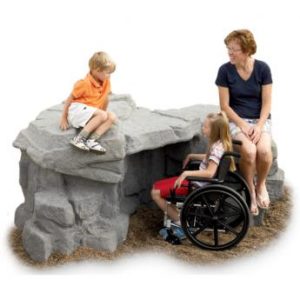 PolyFiberCrete®, all Boulders have a durable, nonslip surface that looks and feels like real rock. Available in natural color tones and 10 different variations, including Boulder Creek which incorporates water.
• Origins T-Rex & Diggables: Designed to resemble real fossils, T-Rex and Diggables encourage children to imagine themselves as archaeologists unearthing the discovery of a lifetime. Made with patented PolyFiberCrete®, T-Rex options include Head, Ribs, Tail, Hatched Egg and Hatching Egg; Diggables include Fossil Jam, Raptor Rock Head and Raptor Rock Tail.