Product Demonstrates Playground Manufacturer's Continued Commitment to Developing Accessible Products and Activities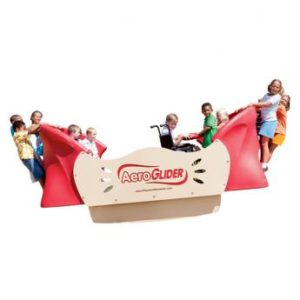 LEWISBURG, PA (January 25, 2011) – Playworld Systems, a leading manufacturer of imaginative playground equipment, today announced the launch of AeroGlider, the industry's most inclusive motion play product. The standalone product brings the fun of the amusement park to the playground and is designed for use by kids and adults of all ages and abilities.
"The benefits of this new product are invaluable," said Kevin Cook, director of sales for Playworld Systems. "We know from our on-the-ground research that diverse group play teaches children the lifelong sharing, negotiation and conflict resolution skills they need to be socially adjusted adults. This product encourages cooperation and teamwork among children and adults of all ages and abilities."
The product's inclusive design provides endless hours of action and entertainment. The unique stepping platform on both ends provides an opportunity for more kids to play and increases the motion and fun. High rear rails allow adults to assist with the gliding motion while experiencing the enjoyment themselves. The interior includes a full five-foot wheelchair turning radius, providing enough room for two wheelchair users to sit side-by-side. There are also couches on each end so that all users can enjoy the swaying motion. A center table also provides comfort-grip handholds.
"Outdoor playground equipment plays a critical role in the social development of all children. I'm especially excited about the AeroGlider because now children in wheelchairs can enjoy the thrilling sensation of swaying – and even generate movement – without having to transfer out of their chair," said Mara Kaplan, founder of Let Kids Play!, a partner organization to Playworld Systems that specializes in designing play spaces for children with special needs. "Previously, children in wheelchairs could only pull up to ground-level, static pieces of equipment such as play panels and accessible diggers. The AeroGlider adds another dimension to playground fun for these children."