Rick Hansen on hand for opening of Winter Olympics legacy project
By Kelly Sinoski, Vancouver Sun December 11, 2010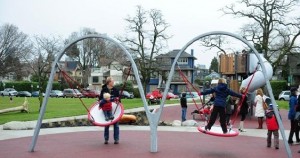 Aidan Goldie couldn't wait to try the new saucer swing. It was big and inviting and looked like one of those flying saucer toboggans hanging from a swing set.  At least two children can sit on it. And if they face the right way, they have a view of the water and mountains at Kits Beach.
"It looks really cool," Aidan, 12, said, surveying the new accessible playground at Vancouver's Kits Beach. "When some people don't like to play on the beach they can come here."
The new half-acre playground, which was officially opened next to the Boathouse by the Vancouver park board Saturday, is a legacy project of the Winter Olympics — one of three accessible playgrounds in Vancouver, Richmond and Whistler.
Read more: http://www.vancouversun.com/health/Kits+Beach+playground+makes+accessible/3963948/story.html#ixzz199a9EqTm
Park Board opens largest fully accessible playground in Vancouver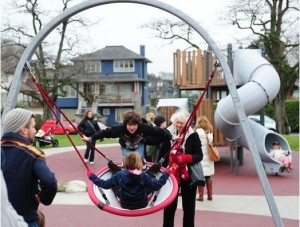 December 11, 2010 (No. 59) – Today, the Vancouver Board of Parks and Recreation celebrated the official opening of the city's largest fully accessible playground at Kitsilano Beach Park. It is one of three showcase inclusive playgrounds built in the 2010 Winter Games host communities of Vancouver, Whistler and Richmond.
This new playground enables children of all abilities to play side-by-side with their siblings, friends, families and caregivers. A wheelchair accessible surface also allows parents and caregivers with physical disabilities access to the playground. The playground, which includes features such as an accessible sand play table, rotating climber and saucer swings, is a legacy of the Vancouver 2010 Olympic and Paralympic Winter Games.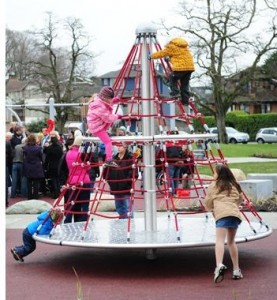 "New play opportunities have been included to ensure universal access and encourage imaginative play, sensory experiences and fun for children of all ages and abilities," says Vancouver Park Board Chair Aaron Jasper. "We are extremely grateful to our funding partners for their generous contribution to a safe and fun place where all children can play for years to come."
In July 2009, the Park Board approved the upgrading of the Kitsilano Beach Park playground to an accessible playground in partnership with Ronald McDonald House Charities of Canada, Rick Hansen Foundation, 2010 Legacies Now, Province of British Columbia, Coca-Cola Canada and Shane's Inspiration. The Park Board provided the land space and oversaw the building of the playground, and will provide its ongoing maintenance.
"It took months of hard work, dedication, determination and a strong vision of inclusiveness to bring this playground to fruition," says Stephanie Cadieux, Minister of Community, Sport and Cultural Development. "By working together, we have created something beautiful – a legacy that can be enjoyed by all children and all parents, of all abilities."
"Ronald McDonald House Charities of Canada is thrilled to help celebrate the new world class accessible playground at Kits Beach," says Rem Langan, Chairman, Ronald McDonald House Charities (RMHC) of Canada. "This new accessible playground will bring many smiles to Canadian kids and their families. And by offering a universal play environment, together we will enable kids of all abilities to play together."
"All children, along with their caregivers, need a space to play and explore together, regardless of a disability" says Rick Hansen, President and CEO of the Rick Hansen Foundation. "This playground is a shining example of what I set out to accomplish 25 years ago on the Man In Motion World Tour – making communities more accessible and inclusive for everyone."
HB Lanarc Consultants Ltd. was awarded the landscape architecture consultancy contract to assist Park Board staff and Shane's Inspiration with the public process and concept plan development. The $540,000 half-acre (0.2 hectare) playground is located 100 metres south of the original playground, which will be dismantled and replaced with grass. The new playground is closer to existing accessible washrooms, concession, lifeguard tower and parking area.
-30-