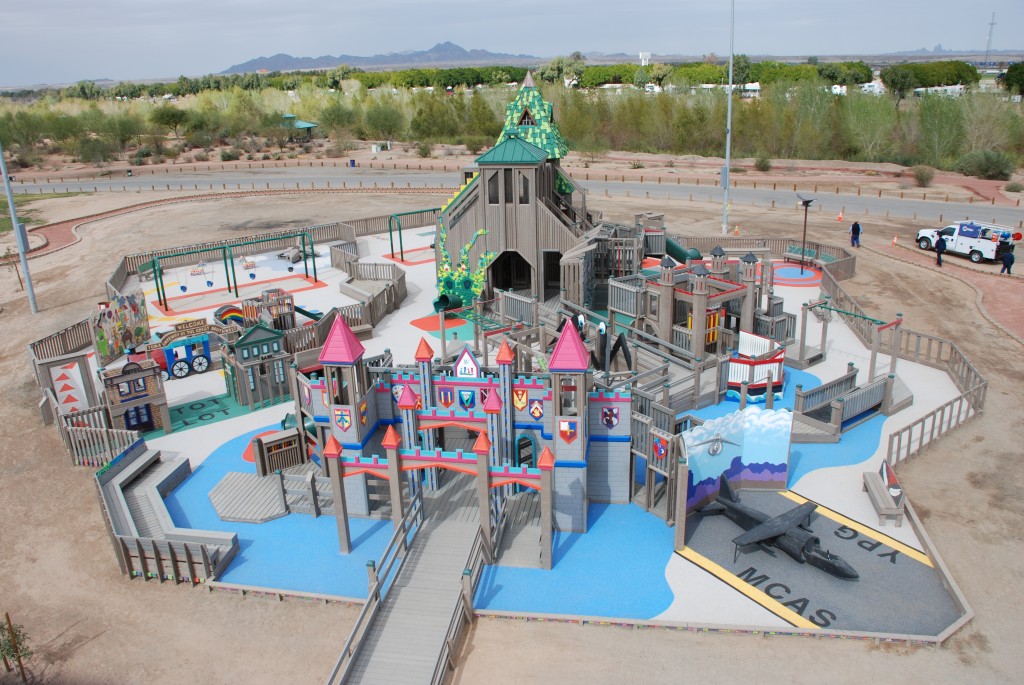 Leathers and Associates have been fortunate to collaborate with communities throughout the country on memorial playground projects. The playgrounds are a way to turn a painful loss into a positive experience that provides a long-term remembrance of a loved one.
In Yuma, AZ Stewart Vincent Wolfe Creative Playground is a super-sized playground located in Yuma's West Wetlands Park. Ron Martin donated a large amount to the playground project in memory of his friend Vince, who loved the park.  Yuma's city parks department managed the project, which made this special playground possible.
This true community effort boasts some impressive numbers: a budget of more than $300,000, 8,000-plus construction volunteers, imaginative ideas from 5,000 school children, 50 committee volunteers serving on 9 committees,and 10 short but full days of construction. The result is a17,000-square-foot kingdom for kids—that's over 3 acres of playground!
Martin said that "the biggest thing is the people working on this from all walks of life. The inmates were honored to be here. And the winter visitors were awesome. This showed they're part of the community. There was so much positive energy. It's amazing to see the finished product."