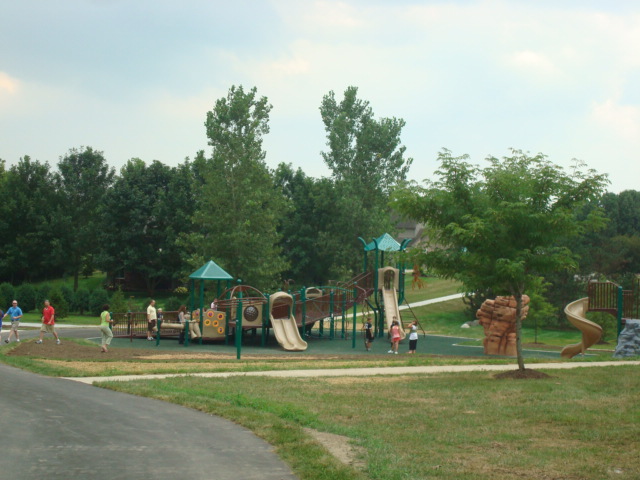 Freedom Trail Park's all-inclusive playground in Westfield, Indiana held will its grand openin August 14. It will include a Sensory Garden, which will be planted this fall, and it will be the first garden in Indiana specifically geared for children with autism and is complemented by being one of the few sensory gardens in the state. The playground is geared toward individuals with special needs and to provide a chance for all individuals to learn and grow while playing together.
The Westfield Rotary Club partnered with the City of Westfield Parks Department to design, build, and fund the Sensory Garden features. During the design, the Hamilton County Autism Support Group (HCASG) conferred with them to make sure the features that are included are ones which children with autism would prefer, for example, spinning and twirl features. The equipment was built so more than one individual in a wheelchair can pass on the wide ramp system leading to all the play features. The swings include handicap accessible swings instead of platform swings.
Although the playground contains a play structure for individuals ages two through five, and a play structure for those five and older, the play area will have nature theme so that individuals of all ages will be encouraged to play in nature. The Sensory Garden is sponsored by the Westfield Rotary Club and endorsed by HCASG. The Sensory Garden will include specialty gardens with plants that stimulate a particular sense, such as smell, sight, sound, and touch.
"We are absolutely thrilled about the opening of this amazing park," says Westfield Parks Director Melody Jones. "We are extremely optimistic that this park will become a destination for families all across the State of Indiana."
President of the Westfield Rotary Club Kurt Wanninger says, "Our Club has adopted this park as one of our signature community service projects here in Westfield and Hamilton County, and the Club members are excited about the continued development of this project over coming years."
This fall, many families from HCASG are planning to volunteer to help with the grounds garden area by planting bulbs and plants.
"Our organization is thrilled to be a part of such a wonderful partnership within our community," Hamilton County Autism Support Group President Jane Grimes says. "This environment will provide and stimulate much needed support for our children and families who have autism. Our relationship with the City of Westfield and Westfield Rotary is so genuine and for all the right reasons. The rates of autism are continuing to climb at massive rates, as our state is now the 7th highest state in the US with the highest incidence of Autism."
The cost of the playground is over $200,000 and was funded through a grant and park impact fees; no tax dollars were spent for this project.