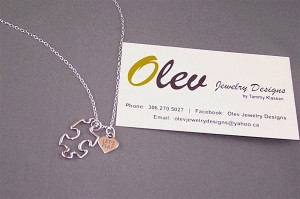 Prince Philip Elementary School in Saskatoon, SK. has the unique privilege of including the Junior and Intermediate Autism Support Programs. These programs are offered to students who have a diagnosis of Autism or Pervasive Developmental Disorder and who are unable to function in a mainstream classroom.  However, they do not have a good playground.
Tammy Klassen, mother of two boys, understands how important it is to have a safe playground that promotes active learning, play, and social development.She is also a Speech-Language Pathologist and work with children who have communication delays and disorders¸ such as Autism Spectrum Disorder. Her passion is designing jewelry and when she learned this playground she knew she had to design a special piece for this exciting project.
Each necklace is $30 and for every limited edition "Let's Play" necklace sold, Tammy will donate $10 towards building a new fully accessible playground that incorporates a variety of sensory play experiences.
This necklace can be viewed atwww.olevjewelrydesigns.blogspot.com and www.princephilipplayground.com If you would like one of these limited edition "Let's Play" necklaces or know someone who would, please contact, Tammy Klassen by email at olevjewelrydesigns@yahoo.ca