Explore and discover Michigan's landscape with the entire family at the new universally accessible playscape at Waterford Oaks County Park. According to the Destination Oakland website, here is what you will find in this very unique playground.
Little explorers can discover Michigan's wonders and learn about the Great Lakes State through simulated rock, water and fossil features.  The play structure will include: an "Up North Woods" cabin, simulated tree fort, sand dunes area, marsh challenge course with simulated cattails, raised sand play area and multiple climbing structures.  Colorful rubberized surfacing will depict Michigan's Lakes and rivers.
Balance yourself on a cattail or explore nooks and crannies in the log crawl while navigating the Marsh Challenge Course. The Marsh Challenge Course features simulated logs as well as real and simulated stones that create a challenge course for balance, movement and navigation. This feature mimics the many nearby cattail marshes that are home to wildlife ranging from grasshoppers to birds and more.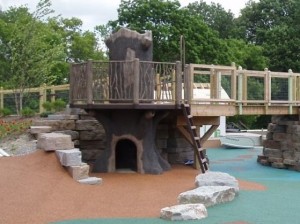 Explore Michigan's natural Tree Fort. A simulated tree at the playground's highest elevation, with several access points, allows children to climb up the interior of the tree or use the walkways and "trails" to access the deck that surrounds the top. Michigan boasts thousands of acres of forests which provide ample recreation opportunities such as hiking, camping and wildlife viewing.
Camp along the waters edge or fish from a fully accessible row boat. A log cabin allows children to set camp after a hard day of rock climbing and playing in the sand. The log cabin represents the experience of going "up north" and enjoying some of the most pristine, natural parts of Michigan.
Dig for fossils in Michigan's sandy beach areas or climb sand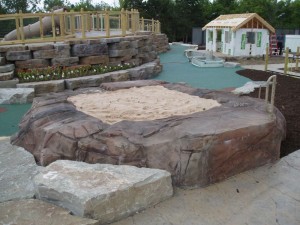 dunes to Michigan's backwoods trails. Simulated beaches and an elevated, accessible sand play area, complete with simulated fossils, allow for children of all ages to discover and learn. Michigan's sandy beaches are one of its defining characteristics and a feature that make the state's shorelines such a great vacation spot for millions of visitors each year.
Climb Michigan's glacial rock formations. There are several real and simulated rock features that are great for climbing and exploring, or just sitting down to rest. Northern Michigan is well known for its rocky shorelines, cut by the glaciers as they receded across the landscape thousands of years ago.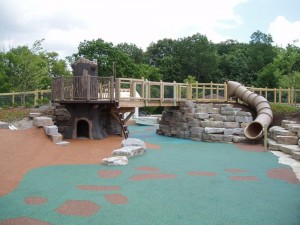 Cross Michigan's natural river ravines and canyons or hop stepping stones across the open waters. The simulated water elements constructed from a blue pour-and-play rubberized surface represents Michigan's nickname as the "Great Lakes State" and emphasizes the importance of the Great Lakes to Michigan's economy and culture. Oakland County is home to 1,400 natural lakes and the headwaters of five major watersheds.
The name of the playground was named through a contest.  One child who saw the designs of the playground said it looked like Paradise.  So the playground is now called Paradise Peninsula Playscape.
Construction on this structure began July 1, 2009 with a $250,000 Access to Recreation Initiative grant funded by W.K. Kellogg Foundation and administered by the Michigan Recreation and Park Association Foundation.   The playground was designed and built by cre8play.  The playscape is located by the court games complex at Waterford Oaks Park. The playground is located at 1702 Scott Lake Road in Waterford, MI.  Get Directions
You can listen to a podcast about the Playscape. The video shows the playground in action, but also shows some special aspects set up for the grand opening.