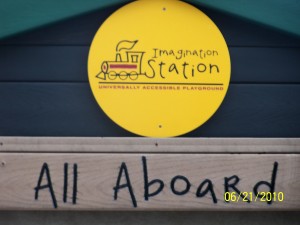 Welcome to Oconomowoc, WI's accessible playground
Every summer when I was a child, I packed up my duffel bags and went to camp in Oconomowoc, WI.  Through the eyes of child, I thought there wasn't anything in Oconomowoc, except us campers.  I knew there was ski resort, so I figured it was skiers in the winter and campers in the summer. Now I pack up my daughter's duffel bags and drive her to Oconomowoc, WI and I can see how wrong I was.
There are 26,000 people that live around Oconomowoc and they believe in recreation and green space.  There is are beautiful lakes, ponds & rivers as well as parks. The parks and recreation department is responsible for 33 park sites and designated open space areas totaling over 200 acres of which approximately 110 acres are active type land suitable for recreation areas and facilities.
Last summer (2009) this community built Waukesha County's first universally accessible and environmentally friendly playground.  So this summer, after I dropped my daughter off at camp, I came to explore Imagination Station, a playground built by 2500 volunteers over the course of a week.
Imagination Station is a Leathers and Associates playground.  Leathers works with communities to design their playgrounds and them helps them build them from the ground up.  I have seen other Leather and Associate playgrounds.  All of them have a similar feel.  However, Imagination Station is best accessible playground I have seen.  Over 300 children had a say in the design and their ideas and visions were obviously taken into great consideration.
I believe that a universally accessible playground means that children of all abilities can play at their appropriate developmental level.  It is a playground where every child is challenged.  Therefore, it is not a playground only for children in wheelchairs, where ramps rule the playground, it is a playground where children with autism have opportunities for sensory experiences, typically developing children can use their imagination to create play scenarios, and where children with developmental delays can learn in incremental steps how to climb.
Imagination Station does this:
There are double wide ramps that lead you up to the very top of the playground.  There are activities to do along the way so it isn't a "ramp to no where".
The surfacing is pour-in-place rubber surfacing that makes it easier  for a wheelchair to move around on, but also provides safety for children who are not steady on their feet.
There is a fence around the playground with only one entrance/exit, so that "runners" cannot get passed mom.  The fence is built with pickets–800 pickets, each one with a name or dedication on it.  This was a wonderful fundraiser that enable anyone to help support the playground.  Pickets cost $30 for an individual and $60 for a company.  That means they raised approximately $30,000 through their picket sales.

Picket Fence with sponsors' names

There is band shell reminiscent of the band shell in town, where children can create play or sing a song.  There are percussion instruments to accompany the players.
There are adapted swings, typical swings and toddler swings.
The monkey bar area has multiple height bars as well as a variety of challenges.  A child in a wheelchair can lift up their arms and pull themselves across, while other children are doing flips on the bars.
In addition to the swings, there are plenty of other areas for children to experience vestibular motion (e.g. going around in circles, going up and down, or going back & forth.)
In addition the monkey bars there are plenty of opportunities for children to use their proprioceptive sensory system.  There is a huge rope climber that is fun for the little ones as well as for teenagers.  There is also a small climbing wall.
There are two different types of slides.
The city of Oconomowoc is given its dues through the many areas for imaginary play with trains, boats, the clock tower, and beautiful streetcapes.
There are places to climb underneath the playground for children who need a little time to themselves.
Below you will find pictures of the playground, which will give you a much better idea of why I think this is such a special playground.  All the children who were playing there the day I went said this is the best playground in town. You can find Imagination Station in Roosevelt Park,101 E. Forest Street, Oconomowoc, Wisconsin 53066.  Roosevelt Park is located along the Lake Country Bike Trail.
The playground cost $450,000 to build.  $60,000 came from the city as Roosevelt Park was already slated for upgrade and rest of the money was raised by dedicated volunteers.  The 16,000-square-foot  playground was built 2500 volunteers over a week long community build.  It took the playground committee 18 months to plan, fundraise and build the playground.
The idea for the special playground came from a parent who visited a similar facility in Manitowoc and suggested it to some friends at the Oconomowoc Junior Woman's Club. In early 2008, the social service club agreed to get behind the playground effort, donating $2,000 for initial design work. The group hired Leathers and Associates. Jenifer Hilander, co-chairman of the organizing effort, recalls hearing about the concept at her very first meeting with the Junior Woman's Club. "I loved the idea," she said. "We just knew that this was meant to be for our community."
Every community should have a playground as well thought out and built with such obvious love as Imagination Station.  There are even more places to jump, climb and have fun at Imagination Station than my camera didn't catch including a toddler-only area, so if you are in the area, you must stop for a visit    For more information on how Imagination Station came to be contact people at Oconomowoc's Parks and Recreation.  You can also visit the original Imagination Station website, although it is now out-of-date.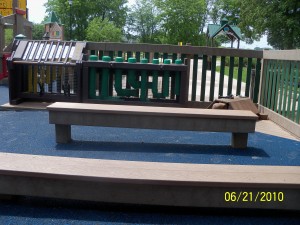 View from band shell with seats for watching the performance & instruments in the background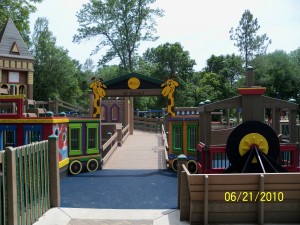 Entry way with wide ramps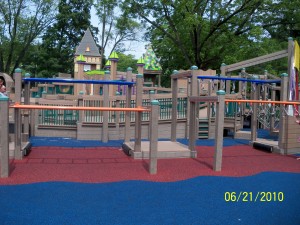 Multi-level monkey bars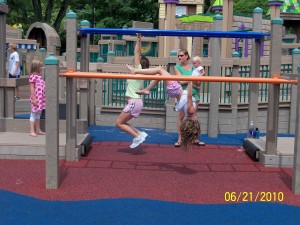 Children playing on monkey bars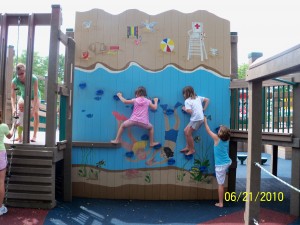 Rock Wall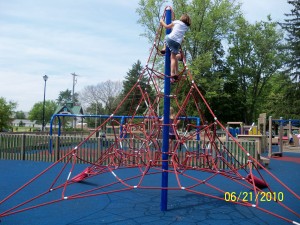 Rope Climber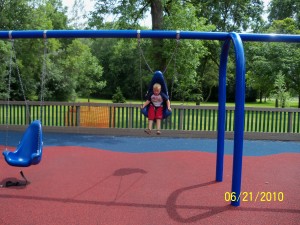 Swings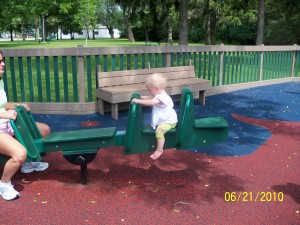 Teeter-Totter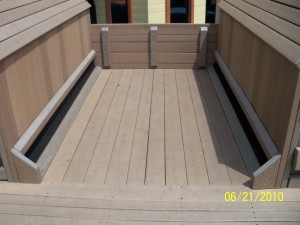 Roll into the glider and make it move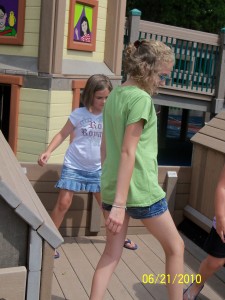 The girls move the glider in all directions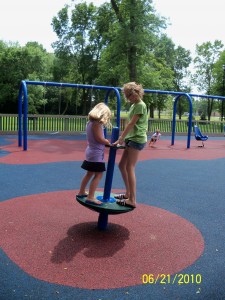 Spinner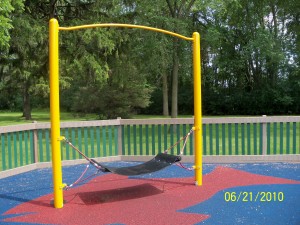 Swaying hammock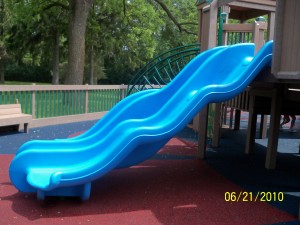 Slide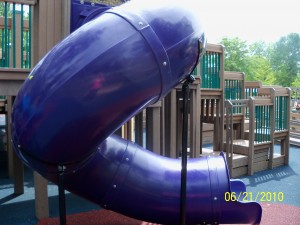 Enclosed slide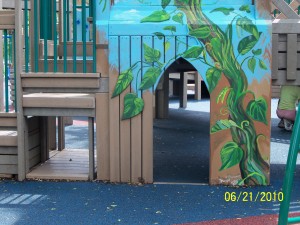 Climb under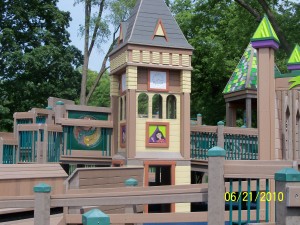 Climb all the way up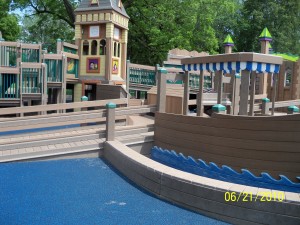 Deliver the mail by boat
You can be the driver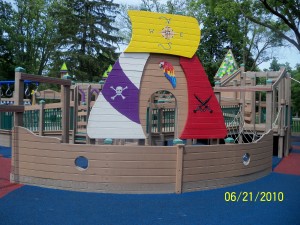 More boats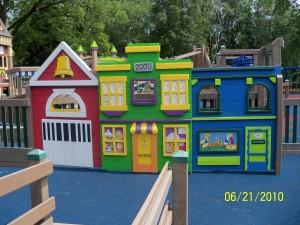 Sensory experiences along the streets of Oconomowoc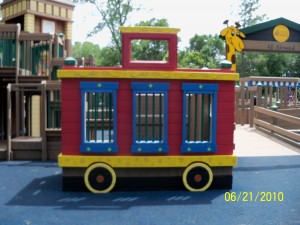 The circus comes to town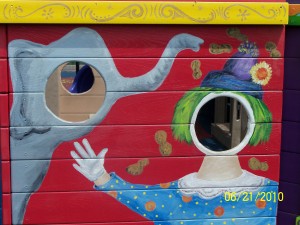 Become the clown or elephant