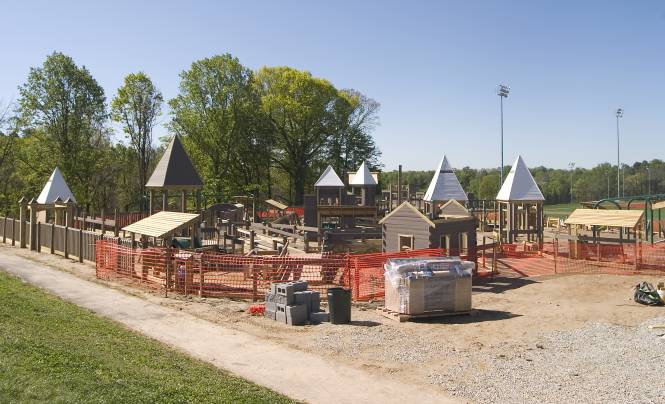 Freedom Playground ia custom-designed playground by Leathers and Associates.  It was hand built last month by over 2,000 community volunteers.  All of the 12,050 square feet is accessible play areas including accessible slides, swings, musical instruments, low monkey bars, rocking platforms, sandbox, sand table and cozy crawl spaces.
The goal is to have the safety surfacing in by the summer.  The planning committee still needs to raise the money in order to install
the ground cover.  Their hopes are to open later this summer.
Freedom Playground is located at the new Haverford Reserve at Darby Road and Parkview Drive in Haverford, PA.  If you live near Haverford, PA and want to donate for the safety/accessibility surfacing, please contact the playground committee at info@freedomplay.org.  Their website to learn more about the project is www.freedomplay.org.