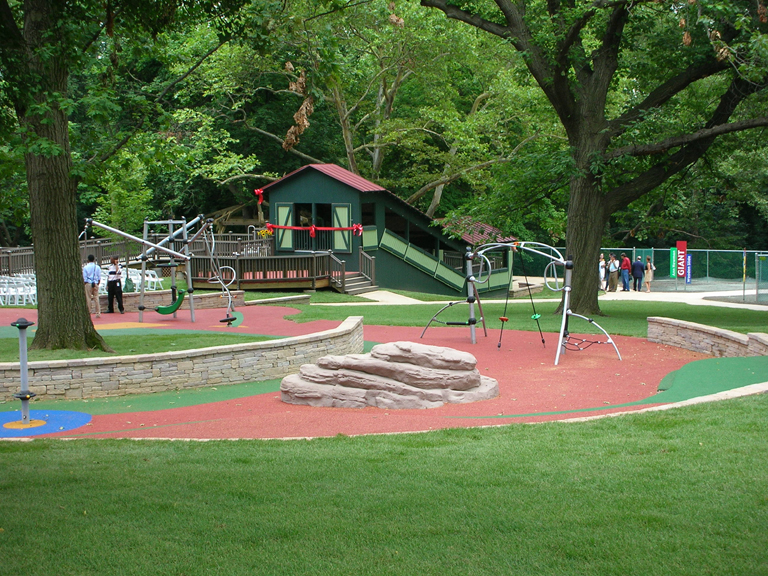 Have you been to the Smith Kids' Play Place in Philadelphia yet?  If you have a child 10 and under and live anywhere in the area, you must make this playground part of your regular stops.  Many people do, as over 100,000 people visit Smith every year. Smith Kids' Play Place has been in operation for 111 years, with only a few interruptions for renovations. The playground is enormous–the size of 6 football fields. There are more than 50 pieces of unique, age-appropriate and accessible pieces of play equipment.
According to Hope Zoss, the Executive Director, "The playground is 100% accessible and our play equipment is 90% accessible.  We have a poured-in-place surface, accessible pathways, ground based equipment, and swings with backs. We have transfer stations that allow for access onto the Ann Newman Giant Wooden Slide as well as the "pirate ship" in the Tot-Lot.  The "Tree Walk" that leads to the Slide is accessible.  In addition, we have a piece of equipment called the Sway Fun which is designed for wheel chairs. A ramp leads to the Sway Fun.  Our experience has shown us that all children enjoy SMITH."
SMITH The Kids' Play Place in the Park is free.  All children, 10 and under, must be accompanied by an adult, 18 years or older.  The play place is closed on Mondays and certain holidays.  If you are looking for a quieter day to visit, come on Tuesdays, when it is just for families and there are not field trips happening.  If you are looking for a place for a field trip or birthday party Smith Kids' Play Place is an excellent choice.  Click here for hours and directions.
They recently added a Tot-Lot for children 5 and under.
SMITH is unique. There is also an indoor play area –the Playhouse  which is beautiful and huge. The Playhouse is for children 5 and under.  The building was designed solely as a play space for children by one of Philadelphia's most prominent late 19th century architects, James H. Windrim. The open layout of the 24,000 square foot three story brick and masonry structure features floor to ceiling windows, porches and room upon room with a variety of play opportunities from riding tricycles to tumbling to putting on a puppet show. The Playhouse is situated on its original landscape — six and a half acres of open fields, wooded terrain, and sloped hills — home to the century old Ann Newman Giant Wooden Slide, a treasured play experience for generations of Philadelphia's children.
src="http://www.youtube.com/v/z9cK3YxjvFg&hl=en_US&fs=1&" allowFullScreen="true" allowscriptaccess="always" allowfullscreen="true" />
The history behind this unique playground is fascinating.  According to their website:
"In the late 1800s, in conjunction with the American Playground Movement, the Richard and Sarah Smith Trust created SMITH. The Movement was developed in the mid-1890s when child-saving reformers, social workers and child psychologists, concerned about the health and welfare of urban children and believing that supervised play improved the mental, moral and physical well-being of children, urged local governments to construct playgrounds where children could play safely. SMITH, an embodiment of the Movement, opened in 1899.
For more than 100 years, Smith's operations were supported almost exclusively by the interest from the Trust. In 2004, a group of concerned citizens established a non-profit organization, Smith Memorial Playground & Playhouse Inc., to fund the restoration of the site, maintain the facilities and expand services. Since then, Smith's Board has been successful in increasing the organization's operating income by more than 100%. In addition, Smith has raised more than $7 million in support of its capital campaign to restore the Playhouse and Playground."
Now that Smith is a non-profit organization and is committed to keeping the play place free, it is always looking for people interesting in supporting the play place either financially or through their time. You can easily help support them by becoming a member for only $50 (there are higher level membership as well).  There are many great volunteer opportunities. In fact over 350 people volunteered there last year.
There are also programs including story time, crafts and special events. Keep watching their website or follow them on Twitter to keep up what is happening.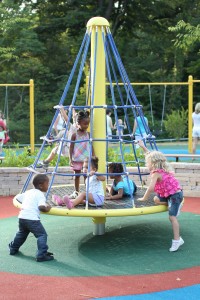 See you soon playing at the Smith Kids' Play Place in the Park