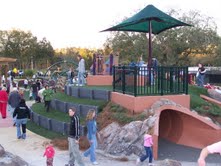 Here is a description of Common Ground Playground in Lakeland, FL by guest Blogger Pam Page.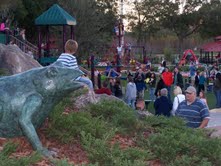 In 2009 the City of Lakeland opened its first inclusive playground featuring unique play experiences for children of varying physical and cognitive abilities.  Our field of dreams, Common Ground, utilized ForeverLawn synthetic turf to cover over 25,000 square feet of play zones to connect our barrier free play elements.  From Gopher Mountain to Adventure Canyon, from Sculpture Gulch to Rockslide Gap and from Sway Valley to Butterfly Meadow children run, crawl, roll, creep, sit  and slide on ForeverLawn, synthetic turf.
ForeverLawn safety surface was selected for our community playground because it creates the natural looking green environment so critical to our design while providing barrier free safety fall zones that protect our children.  Common Ground is situated in central Florida.  ForeverLawn enables us to maximize our children's outdoor play time.  Our play surface drains almost instantly even after a tropical torrential rain and it remains cooler than other safety surface options.  Integrated planting beds placed throughout the play elements increase the tactile, olfactory, auditory and visual sensory perception of children; artificial turf surrounds the natural beds and accentuates the flower and vegetative color while enabling the children to interact with the landscape.  ForeverLawn allows even transition from hard paved sidewalks to the cushioned safety surface with barrier free edging.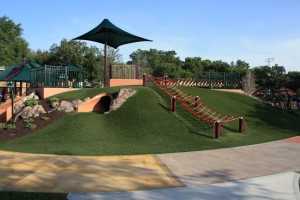 A primary feature of the playground is Gopher Mountain.  This eight foot above grade surface with its tunnels and climbing ports is covered with ForeverLawn.  Since the first hour of open play, children have automatically moved to this feature to experience sliding, rolling, and running up and down its natural slopes.  No other covering could provide the same natural experience as successfully, or stand up under the rigorous demands on these varying slopes designed to challenge different ability levels.
Common Ground is a community dream.  The park, in the shape of a butterfly, provides play opportunity for all children including over 17,000 children with physical and cognitive challenges in our Lakeland community.  It is the dream of thousands of volunteers who fundraised for four years to make it a reality.  Community partnerships and collaborations collected over $1.8 million dollars to fund Common Ground.  All four Lakeland Rotary Clubs sponsored community runs and featured special events to fund their centennial project Common Ground.  Kaleidoscope, Butterflies in Flight,  public art project placed artistic butterflies through out town to raise awareness of special needs play for kids and contributed over half a million dollars to the park.    State, county and municipal government matched funds with grants and in kind support.  Private business and non profits alike contributed funds and hands to shape Common Ground.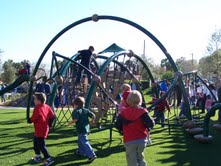 Our Common Ground encourages social interactive play between children of varying abilities.  It places children side by side and face to face in chairs, on sticks, on feet, with braces or with out.  Play zones challenge physical, social, emotional, and cognitive development through meditative, interactive, exploratory, and imaginative play.  Most importantly Common Ground brings children of varying abilities together and encourages acceptance and understanding of differences.  Common Ground brings us together to celebrate all children.  Common Ground celebrates the differences of children; which like butterflies…. no two are alike.  Common Ground is our community field of dreams.