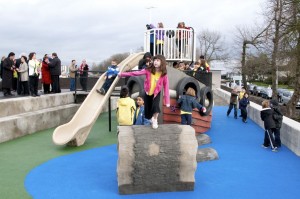 Here is a follow up on the story about the Winter Olympics in Vancouver where community groups worked to leave behind three accessible playgrounds for the children of the area to play on.  The playground in Richmond was built as part of the Middle Arm Greenway improvements which included in addition to the playground, public art, dyke upgrades and state-of-the-art play stations for children.
At the south end of the Greenway, Shane's Inspiration and Cre8play worked together on an innovative playground.  The playground is designed to look like a real sized Tug Boat.  It includes 2 slides, an observation deck, a control room, a log ADA transfer station, interactive sounds, a bell to ring and it is all accessible by a wide ramp.  You have to try the sounds out, they are really fun.
Below are pictures of the playground thanks to Cre8play and the City of Richmond.