Three world-class, accessible playgrounds are being built in Vancouver, Whistler and Richmond,  the venue cities for the 2010 Olympic and Paralympic Winter Games.  So once all of the athletes, media and visitors leave this beautiful area with their medals and memories, the children of Vancouver will be left to PLAY!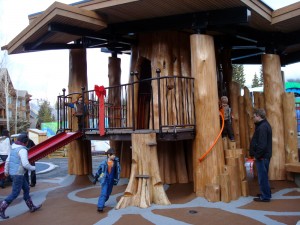 The playgrounds are thanks to Legacy 2010, Ronald McDonald House Charities of Canada and the Let's Play Project, a partnership of the Rick Hansen Foundation and the Province of B.C.
The Vancouver playground will be located at Kitsilano Beach Park; the Richmond playground will be located along the Middle Arm Waterfront Greenway, close to the Olympic Oval; and the Whistler playground is being built at the Celebration Plaza.
The first phase of the 60 Whistler playground opened just  in time for Games at Celebration Plaza.  The second phase will go in after Olympics. The playground in Vancouver will be finished later in 2010.
The playground in Richmond was built as part of the Middle Arm Greenway improvements. Opened just in time for the games,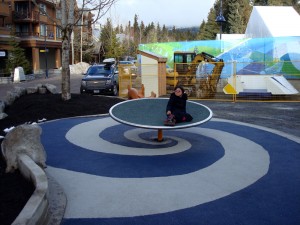 the Greenway has public art, dyke upgrades and state-of-the-art play stations for children.  At the south end of the greenway there are three innovative accessible play spaces, supported by the Ronald McDonald House Charities of Canada. These include a sound garden with drums, parabolic dishes and other sound equipment. Other spaces feature a play tugboat, and a playscape with soft, tactile elements and rolling pathways.
Pictures thanks to The 2010 Whistler Accessibility Blog (The WFTD Society)