Landscape Structures Inc., a Delano, Minn.-based commercial playground manufacturer, introduced A Higher Level of Inclusive Play™, a revolutionary playground design solution that will provide new sensory play experiences for children of all abilities, and establish new standards for inclusive playgrounds worldwide. Landscape Structures' goal with its Inclusive Play solution is to include children with autism and sensory disorders, and lead the creation of a new generation of inclusive playgrounds.
As part of this solution, Landscape Structures launched a suite of Sensory Play products that will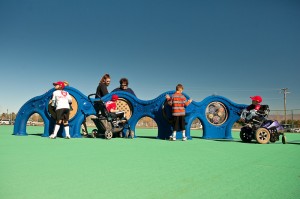 create welcoming play environments for all children especially those with autism or sensory processing disorders. The five new products were designed to provide rich tactile, proprioceptive, vestibular, visual and auditory experiences, as well as help develop motor-planning skills and increase social/imaginative play opportunities. In addition, with the help of industry experts the company's team of in-house playground designers has developed Sensory Design Criteria that now guide all inclusive playground designs.
Designers of inclusive playgrounds strive to serve children of all abilities and, until now, their playground designs have largely focused on accessibility and developmental appropriateness. With its Inclusive Play solution, Landscape Structures contends that each playground should address the sensory needs of all children and welcome those with autism and other sensory processing disorders into the play environment.
According to a December 2009 CDC report, in 2006 one in every 110 children was on the autism spectrum—an increase of 57 percent in just five years. Among boys the total was one in 70. While it has long been recognized that children on the autism spectrum often have difficulty playing and socializing like typically-developing children, little attention has been devoted to addressing this issue on the playground. Landscape Structures believes that this must change and that playgrounds are the perfect environments for addressing the play and socialization needs of all children, in particular those on the autism spectrum.
"Throughout 2009, our designers and engineers worked closely with experts in the fields of play and occupational therapy, autism spectrum disorders, adaptive recreation and accessibility to understand the sensory development of children and develop an entirely new class of Sensory Play products for the playground," said Pat Faust, president of Landscape Structures. "Landscape Structures is the only manufacturer dedicating time, talent and experts to provide the best product solution for Inclusive Play with an emphasis on Sensory Play and the rationale behind it. We believe that this is only the beginning of the transformation of inclusive play."
"Thousands of inclusive playgrounds will be designed and installed throughout North America in 2010, and we are hopeful that all of them will embrace a three-part model of inclusive play: accessible, developmentally appropriate and sensory. We strongly believe in the promise of inclusive play, and we are determined to create beautiful environments where play, socialization and friendships can flourish for all children."
Landscape Structures' new suite of sensory and inclusive play products is designed to bring children of all abilities together in close proximity to encourage parallel and cooperative play. The Sensory Play Center™ is a configurable system with up to nine highly-interactive play activities using marbles, gears, mazes, kaleidoscopes and more, while the custom Multi-Sensory Discovery Wall, a one of-a-kind artfully designed sensory centerpiece to any inclusive playground, can be designed to match the theme of any environment.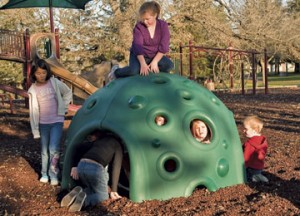 In addition to offering various sensory experiences on the playground, the Cozy Dome™ provides a quiet space to which children can escape by themselves or with a smaller group of friends. And its outer surface challenges kids to climb up, down and around.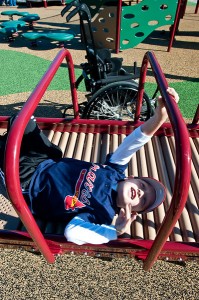 Landscape Structures took one of its most unique slides and turned it horizontal to create the custom Roller Table™. Kids receive proprioceptive stimulation and all-over deep muscle pressure as they push and pull themselves along the TenderTuff®-coated steel rollers for an upper-body strength challenge. Rounding out the new suite of products is the custom Wide Ramp. The first step in creating an inclusive playground is providing access to all, and the Wide Ramp does that as the only one available on the market that meets ADA guidelines for two wheelchairs to pass or travel together.
For more information about Landscape Structures' solution go to Inclusive Play and its new Sensory Play products.