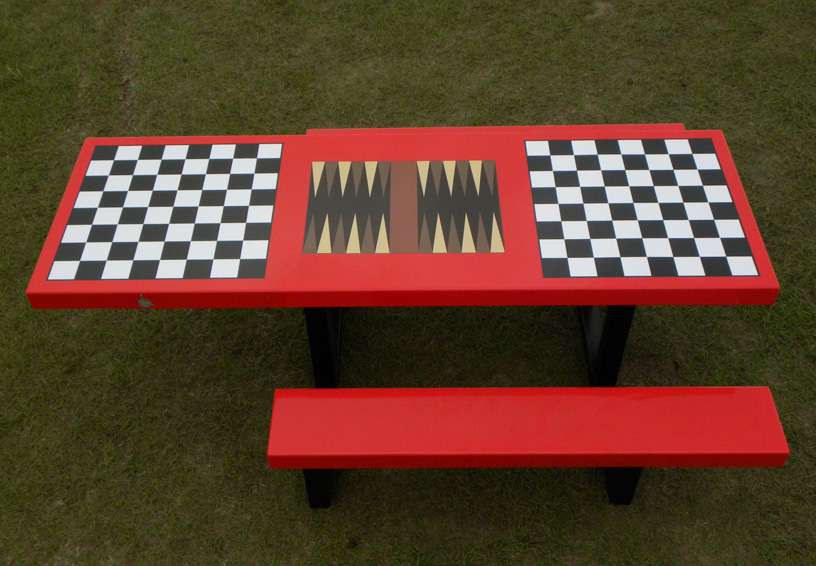 There are many different ways to encourage people of all abilities and ages to play together.  When I was at the National Parks and Recreation (NRPA) Congress, I saw a unique table that I would encourage anyone who is building an accessible playground to add.  It is a fun way to promote inclusive play.
The table is an ADA picnic table, meaning there is a seat left off the design, so that a person using a wheelchair can wheel right up to the table.  There are hundreds of these tables available from many manufacturers.  Depending on the size of park you are building you may be obligated to add ADA picnic tables.
This table is different from all of the others.  It adds play value in addition to a place to sit and eat.  As you can see from the picture there is a checker/chess board and backgammon game on the surface of the table.  We have all seen pictures of people playing fast chess on tables in parks.  This table lets a person who uses a chair to join in the play.
Even if we make the playground design go way beyond, ADA so that it is incredibly accessible, there will still be some children who will not be able to play on the playground.  They just may not have enough energy or strength to engage in active play.  By adding a table like this, the child can still join his friends on the playground and play!
This table is from OFAB and is aluminum.  It is beautiful.  They got more questions about this table than anything else they brought to NRPA.  To purchase a table and learn more about the company, visit their website.
You could also build a table like this.  On the KaBOOM site, they have a whole section on side projects.  One of the projects in building a picnic table and another is building a game table top for the picnic table.  However, you will need to figure out how to adapt the instructions for building a picnic table to leave room for the wheelchair.  You could choose to purchase an ADA table and then just do the side project for adding the game table top.
Some KaBOOM volunteers have gotten very creative and have painted football games, Chutes 'n Ladders, Candyland, and other board games to their tables.  Your imagination is the only limit.