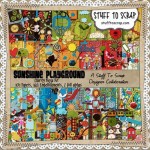 The 'No Child Left Out Project' is a Non-Profit Organization in Utah that is planning the dream of Syracuse's 'Sunshine Playground.' The playground will include features that will allow all children to play side-by-side and truly enjoy being children! To allow for wheelchair access, there will be transfer stations, ramps, wider paths, stable surfaces, table play, ample space around equipment, swings to accommodate children in wheelchairs, as well as auditory and tactile elements.
One mother has taken on this project so that her daughter will have a place to play.  She has worked with her local government to locate a space for this wheelchair accessible playground.  Now she is working to raise $800,000 to build it.  She expects it will take 5 years for the Sunshine Playground to open.
This mom is an avid digital scrapebooker.  She posted about the Sunshine Playground on her blog and a digital scrapbook company, Stuff to Scrap, saw it and decided to create a product where the proceeds will go to the building of this handicapped accessible playground.  The kit contains 101 papers, 168 embellishments and 2 full alphas.  It is full of fun doodles, bright colors, and everything you need to play outside.  It only costs $4.99.